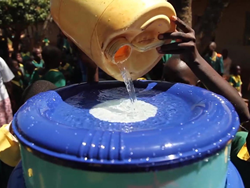 Water related issues are increasingly putting strains on our political, economic, and social systems, so the challenge for students is to understand how businesses, governments and society will be impacted in the future and ways to mitigate those impacts
Oxford, united kingdom (PRWEB UK) 21 January 2016
Water security is one of the defining global challenges to society in the 21st century. Absent or unreliable water and sanitation services, unpredictable floods and droughts, and degraded ecosystems threaten the lives of many of the world's communities and pose increasing risk to businesses, governments and societies. Recent news of the crisis in Flint, Michigan has highlighted how supplies of the commodity are vulnerable to risk.
MBA students at Saïd Business School, University of Oxford have been studying these issues as part of the Global Opportunities and Threats: Oxford (GOTO) programme. They were set the challenge of understanding the global water crisis and exploring a water related issue which was of personal interest to their team.
340 students worked for 5 months on 64 projects. Focusing on a particular geographical region, the 64 groups each chose a specific element of the water crisis; ranging from sanitation issues and the impact of water scarcity on agriculture, to water access in rural areas and the pressure of aging water infrastructure in urban environments. Three winning projects were identified based on their depth of understanding of the problem and the gaps in current solutions.
The three winning teams are:
Increasing access to water in Mumbai's slums
In Mumbai, 50% of the city's 12.4 million population live in slums and the number looks set to double by 2050. The combination of this rapid urbanisation, poor quality infrastructure and the expansion of 'notified' (legal) and 'non-notified' (unregulated) slums have caused continued problems of access to clean water; an increase in disease and illness; and the growth of a black-market trade in water for Mumbai's poorest communities. The team set out to identify the root causes of the issues and built a set of scenarios that would enable them to recommend next steps to fill the gaps in the current proposed solutions. Their recommendations included considerations for increasing the number of licenced water merchants, implementing rainwater harvesting initiatives, and facilitating mobile payments for water purchasing.
Arsenic Poisoning in Bangladesh
It is estimated that over 70 million people in Bangladesh have been exposed to water contaminated with naturally occurring arsenic in excess of WHO guidelines, as a result of drinking from aid-funded wells. The team identified a number of problems with the current solutions: the markers for identifying safe wells had deteriorated over time; a lack of education programmes meant that many people didn't fully understand the long term health consequences of arsenic poisoning; and many of the development projects working to create solutions only address one of the two types of prevalent arsenic. The team examined the various stakeholders including aid organisations, technology providers, community organizations, and education providers, as well as businesses affected by and implicated in the issue including the agriculture and textile industries. The team researched other global solutions to drinking water purification and proposed the consideration of a market-based solution, by which water filtration technology was franchised to communities via water ATMs. This community action would ideally lead to increased community buy-in to the solution, and would help to ensure that a sustainable supply of clean water was available to impacted communities.
Below The Surface - Water In London
Despite external appearances, London is a water-stressed city. One of the causes, said the team, is the Thames Water monopoly that perpetuates an unsystematic, inefficient, and wasteful water-supply and disposal network, through lack of investment in infrastructure. Structured as a foreign privately-held company, the team demonstrated the extent to which interest and dividend payments exceeded its profits in recent years and how tax payers were bearing the burden of the negative impacts. Their recommendations were to bring about the systematic modification of ineffective regulations, and to restructure the company to a public–private partnership, via a financed partial buyout – similar to other successful schemes such as with BerlinWasser, 2013. The result would be to curtail dividend pay outs and initiate much-needed reinvestment in infrastructure, ensuring efficiencies for tax payers and a continuity of supply for London's continually expanding population.
GOTO, launched in 2012/13 to the MBA and EMBA classes, is a unique part of studying at Oxford Saïd. Focusing on a different problem each year, the module challenges the entire MBA cohort to examine current global issues that are far-reaching and increasingly complex, including big data, demographic change, and resource scarcity. The programme is created, convened, curated and moderated by academics at Oxford Saïd and the broader University of Oxford; providing students with the opportunity to work and debate with experts in the field.
'Water related issues are increasingly putting strains on our political, economic, and social systems, so the challenge for students is to understand how businesses, governments and society will be impacted in the future and ways to mitigate those impacts,' said Peter Tufano, Dean of Oxford Saïd. 'By uniting our students with academics, engineers, social scientists, development economists, hydrologists, modellers, and statisticians from across the University of Oxford and beyond, the GOTO project enabled our students to understand the underlying problems and future scenarios in which new business models can manage water for the collective good.'
Visit the GOTO website for more information: http://goto2016.com/
For more information or to speak to the winning students please contact the press office:
Josie Powell, Senior Press Officer, Saïd Business School
Mobile +44 (0)7711 387215; Tel: +44 (0) 1865 288403
Email: josie.powell(at)sbs(dot)ox(dot)ac(dot)uk or pressoffice(at)sbs(dot)ox(dot)ac(dot)uk
Emily McDonnell, PR Coordinator, Saïd Business School
Tel: +44 (0)1865 614489
Email: emily.mcdonnell(at)sbs(dot)ox(dot)ac(dot)uk
About Saïd Business School
Saïd Business School at the University of Oxford blends the best of new and old. We are a vibrant and innovative business school, but yet deeply embedded in an 800 year old world-class university. We create programmes and ideas that have global impact. We educate people for successful business careers, and as a community seek to tackle world-scale problems. We deliver cutting-edge programmes and ground-breaking research that transform individuals, organisations, business practice, and society. We seek to be a world-class business school community, embedded in a world-class University, tackling world-scale problems.
In the Financial Times European Business School ranking (Dec 2015) Oxford Saïd is ranked 10th. It is ranked 10th worldwide in the FT's combined ranking of Executive Education programmes (May 2015) and 22nd in the world in the FT ranking of MBA programmes (Jan 2015). The MBA is ranked 7th in Businessweek's full time MBA ranking outside the USA (Nov 2014) and is ranked 5th among the top non-US Business Schools by Forbes magazine (Sep 2013). The Executive MBA is ranked 2nd worldwide in the Economist's Executive MBA ranking (Sep 2015) and 9th worldwide in the FT's ranking of EMBAs (Oct 2015). The Oxford MSc in Financial Economics is ranked 14th in the world in the FT ranking of Masters in Finance programmes (Jun 2015). In the UK university league tables it is ranked first of all UK universities for undergraduate business and management in The Guardian (Jun 2015) and 2nd in The Times (Sept 2015). For more information, see http://www.sbs.ox.ac.uk/
ENDS