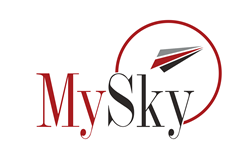 Simplified Air Travel;No lines, No Tickets, No Stress
Jacksonville, FL (PRWEB) January 22, 2016
MySky Aviation ("MySky"), a members only, private-class air service, announced their plans to debut an unlimited flights service between; Atlanta, GA; Charlotte, NC; and Jacksonville, FL in the summer of 2016. MySky brings the innovative, fly-all-you-can membership subscription model to the Southeastern U.S. Today's announcement launches membership pre-sales. Membership is limited; select companies and individuals will receive a Platinum Boarding Pass Invitation to reserve their membership ahead of MySky's first flight.
MySky was founded by Elliot Mintzer, owner/operator of Boomerang Air Charter along with a select group of aviation experts. The team possesses expertise in operations, finance, legal/regulatory compliance, marketing and human resources. Founders are all commercial pilots with strong backgrounds in corporate and commercial aviation.
"We are excited to offer this type of private air travel in the Southeast. In today's fast paced business climate, helping travelers achieve a better work/life balance is our goal" Mintzer added "Utilizing the PC-12 aircraft to provide this type of private service is a perfect fit."
MySky simplifies air travel. For as low as $1,750 per month, MySky members will experience private-class service. There are no lines, no tickets, no stress. Arrive just minutes before your flight, check-in with your concierge and prepare for take-off. MySky members will fly from private terminals in executive aircraft with an average time savings of three hours over current, commercial airline service.
Members will be able to book their travel via the MySky mobile app, MySky Website or through a private concierge in under thirty seconds.
"The MySky membership/subscription business model hits the sweet spot between fractional ownership and charter as needed flight options. For individuals who find themselves traveling between the same groups of cities regularly, subscription flying will actually prove to be more affordable than commercial options. For the corporate customer, this model is far more efficient than having personnel tied up in airports several times a month trying to get between cities they travel to often." -Thomas F. Brandvold, CWT, PREMIER WATER & ENERGY TECHNOLOGY, INC.
MySky will change the way business and leisure travelers fly in the Southeast. Inaugural memberships are expected to fill quickly. Please contact a MySky representative before they are gone. The company plans to expand service to popular destinations throughout the Southeast as they roll out private-class membership service. Corporate membership plans will also be available.
"MySky will provide an exciting alternative to commercial airline service, reducing travel time and hassles, while improving the entire travel experience, all at a reasonable cost for the time-sensitive traveler" -Al Spain, Co-Founder, JetBlue Airlines.
To learn more about MySky and private-class membership please visit http://www.iflymysky.com (https://www.iflymysky.com)
About MySky Aviation Solutions:
Located in Saint Augustine, Florida, MySky Aviation Solutions ("MySky") has been providing travelers with cost effective alternatives to the hassle of commercial air travel since 2009. In the summer of 2016 MySky will begin its members only, private-class air service. MySky is bringing the successful fly-all-you-can member subscription service to the Southeast. Starting at $1,750 per month members can simplify their regional air travel with service between Atlanta, Charlotte and Jacksonville. MySky makes membership easy:
*On-site concierge
*Easy booking
*Private aviations terminals
*Executive aircraft
*Arrive minutes before your flight
*No TSA or security lines
MySky will change the way smart executives and leisure travelers fly. To learn more about MySky or private-class membership please visit http://www.iflymysky.com, https://www.facebook.com/myskyaviation, https://www.linkedin.com/company/mysky-aviation.
+MySky is a veteran owned company
+ +MySky acts as an agent for its members, and does not own or operate the aircraft used for its service. All flights are operated by air carriers holding the necessary government authorizations. If you would like more information about this topic, please contact Sandi Capra at 1-800-905-9456 or email at scapra(at)iflymysky(dot)com