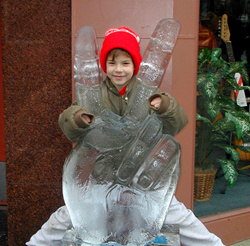 From skiing, to learning a new winter hobby, to even a festival dedicated to ice, Franklin County is the place to be!
(PRWEB) January 24, 2016
Winter is here and with it, comes cold and frosty weather! Franklin County is filled with fun things to do when the weather gets cold. From skiing, to learning a new winter hobby, to even a festival dedicated to ice, Franklin County is the place to be!
1. It's chilly out there, so why not enjoy it with over 70 ice sculptures, a chili cook-off contest and more during IceFest from January 28 through January 31 in downtown Chambersburg! An event for the whole family, the streets are lined with beautifully carved and lighted sculptures and visitors can watch them being carved between Jan. 28 and Jan. 29. During IceFest, there is food, activities for the kids and much more! New for this year includes live glass blowing demonstrations and a 5K run.
2. Go skiing, snowboarding or tubing at Whitetail Resort! This Mercersburg resort has a state of the art snow making system to have fresh powder on their mountain for the adventurous and those learning how to navigate on two skis. For those looking to snow tube, Whitetail Resort has a separate area with different tracks to race down! With gear and equipment available for rental on site, everyone can try something new this winter!
3. Go ice skating or go ice fishing at Cowans Gap Lake! In the winter, it comes to life with skaters, ice fisherman and those out for brisk walks. The area of the lake that adjoins the beach is monitored for ice skating when the lake freezes over. There is no experience like being on the lake in the winter. Be sure the lake is at least 4 inches thick before lacing up those skates!
4. Start a new cozy hobby like knitting or crochet! Ever wanted to try knitting to stay warm during the winter? Maybe you always wanted to crochet your own hat or other winter wear. Maybe you want to make a quilt or sew together something unique. The perfect time to start is during winter! Get supplies from The Yarn Basket in Chambersburg for your new hat and fine alpaca yarn from Pachallina in Mercersburg to try your hand at making a very warm and comfortable pair of socks. If you're looking to start a sewing or quilting project, try The Sew 'n Place in Fayetteville.
5. After doing some traveling and enjoying the cold weather, why not make it a night or even a weekend at one of Franklin County's bed and breakfasts? The Mercersburg Inn offers packages to make the whole weekend a unique experience, including massages, French cooking glasses, golf packages, cheese making weekends and more. This charming inn is within minutes of activities including skiing and the historic birthplace of President James Buchanan. This 20,000 square foot Georgian mansion has 17 guestrooms all featuring plush feather beds and 360-thread count Egyptian-cotton linens. The Inn at Ragged Edge is a perfect setting for relaxation and rejuvenation. Each room has complimentary amenities including local artisanal bath products, Fair Trade chocolates and homemade breakfasts. Fox's Jus-Em-Tyme, a beautiful 1865 Victorian home in the old village of Welsh Run, is bordered by the beautiful Tuscarora Mountains. All rooms in this comfortable bed and breakfast have Egyptian cotton linens, pillow-top feather down bedding and layers of quilts and down comforters. From many of the rooms, Whitetail Ski Resort can be viewed, which is located just ten minutes away. Another relaxing bed and breakfast is White Hall Manor, where guests can spend time together by the Great Room fireplace or curl up with a good book in the game room library. From cozy intimate rooms with queen sized beds to spacious rooms with double whirlpool tubs and king sized beds, White Hall Manor has a variety of blissful rooms.
The Franklin County Visitors Bureau invites all to explore Franklin County PA and enjoy the history, arts, recreation, natural beauty, fresh foods and warm hospitality of communities like Chambersburg, Greencastle, Mercersburg, Shippensburg, and Waynesboro. Franklin County PA is located just north of the Mason Dixon Line and an easy drive to Washington DC, Philadelphia, and Pittsburgh. Discover more….plan your visit at http://www.explorefranklincountypa.com by contacting 866.646.8060 or 717.552.2977.