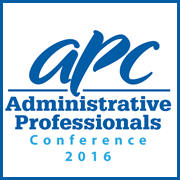 As a manager, sending an admin or EA to the APC both rewards their hard work and provides key training to help them attain their goals
Portland, ME (PRWEB) January 21, 2016
The American Society of Administrative Professionals (ASAP) has announced that Mel Robbins, acclaimed speaker and opinion columnist, will be the premier keynote speaker at its 2016 Administrative Professionals Conference (APC). The APC is the largest, most comprehensive annual training experience for administrative professionals across the nation. The event's four-day agenda kicks off Sunday, Sept. 18, at the prestigious Hyatt Regency in downtown Chicago.
Mel Robbins is currently one of CNN's most popular on-air commentators, and her articles on human behavior drive tens of millions of page views for CNN.com. Her viral TEDx talk, How Not to Screw Yourself Over, has more than 3 million views and climbing. Robbins inspires her many followers to challenge their everyday thinking with scientifically-backed, actionable concepts like her "5 Second Rule": the idea that people must act immediately on their ideas, before the brain becomes overwhelmed with choice and resorts to the status quo.
On Monday, Sept. 19, hundreds are expected to be in attendance as Robbins shares how administrative professionals' behaviors can hinder their own potential for success, and what changes they can make today to turn the trajectory around.
Robbins will be joined at the APC by several other notable speakers including three additional keynotes. On Sunday, Joi Gordon, CEO of Dress for Success, will address how women can find confidence and clarity in pursuit of their purpose – both professionally and in life. Then, on Tuesday, multi-generational expert, humorist, and author Meagan Johnson will share how to bridge the generational gaps that exist in today's workplace. And to round out Day Four, acrobat Dan Thurmon will show administrative professionals how advancing at work doesn't have to require more back flips.
"APC attendees are always eager to improve their skills and increase their productivity. This year's APC keynotes and more than 75 learning sessions will give them the tools and motivation to do so," said Judy Geller, Executive Director of the APC. "As a manager, sending an admin or EA to the APC both rewards their hard work and provides key training to help them attain their goals."
In addition to the keynotes, the 2016 APC program includes a full agenda of workshops and trainings geared toward helping today's admin adapt to and leverage new technologies, increased workloads, evolving roles and expanding responsibilities. In between educational sessions, attendees will have the opportunity to network, socialize, and discover new solutions at the APC Exhibit Hall. Find more information on the APC at apcevent.com.
About ASAP:
The American Society of Administrative Professionals (ASAP) is the largest free association and resource center for administrative professionals and executive assistants. To its membership of over 55,000 admins from around the world, ASAP provides access to online training, live and on-demand webinars, a monthly newsletter, articles and features curated for admins, and a prestigious, new admin certification program. ASAP is a business unit within Diversified Communications, a global organization operating on four continents and a major independent producer of events and media worldwide. For more information, visit http://www.asaporg.com.