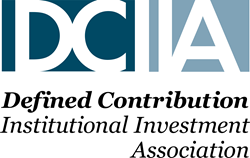 Washington, DC (PRWEB) January 21, 2016
Following its annual membership Board meeting on January 21, 2016, the Defined Contribution Institutional Investment Association (DCIIA) is pleased to announce that its membership has elected the new DCIIA leadership team and members to the organization's Executive Committee.
Lori Lucas, Executive Vice President and Defined Contribution Practice Leader at Callan Associates, will serve as DCIIA's new Chair, replacing Jim Sia, Specialty Team leader focused on Defined Contribution and Sub-Advisory at GMO, LLC, who will serve as DCIIA's Immediate Past Chair. David Musto, Executive Vice President of Empower Retirement, was elected to serve as Vice Chair.
In addition, Paul Gamble of Financial Engines, Mary Beth Glotzbach of Franklin Templeton, Marla Kreindler of Morgan Lewis, Chris Lyon of Rocaton, and Jed Petty of Wellington Management Company were appointed to serve on DCIIA's Operating Committee.
"As a proven leader and expert within the defined contribution community, we look forward to having the benefit of Lori's vision, experience and leadership skills as she steps into her new role with DCIIA. As one of the original founding members of DCIIA, Lori is committed to the cause of the organization and solidifying DCIIA's role as the leading organization dedicated to enhancing retirement security through defined contribution plans," said Lew Minsky, President and CEO of DCIIA.
"We also would like to take this opportunity to thank Jim for his dedication and leadership, and for making a lasting impact on the organization, as DCIIA has witnessed tremendous growth and success over the past two years under his direction," Minsky added.
"Ever since DCIIA's founding in 2010, the organization has been a champion of the institutional defined contribution industry in seeking to improve outcomes for defined contribution plan participants. I look forward to working with DCIIA's dedicated leadership and membership to further build on and strengthen the role DCIIA plays in improving the retirement security of American workers," said incoming DCIIA Chair Lori Lucas.
Additional DCIIA members elected to serve on the Executive Committee are:
Rob Austin, Aon Hewitt (At-Large Member)
Marty Campbell, Reliance Trust (At-Large Member)
Josh Cohen, Russell Investments (Research Chair)
Scott Cooley, Morningstar/Ibbotson (At-Large Member)
Josh Dietch, Chatham Partners LLC (Research Vice Chair)
Phil Edwards, Curcio Webb (Investment Policy Committee Vice Chair)
Layne Finnerty, State Street Global Advisors (Global Committee Chair)
Mark Fortier, NISA Investment Advisors, LLC (Retirement Income Committee Chair)
Lee Freitag, Northern Trust (Global Committee Vice Chair)
Allegra Heyligers, BrightScope, Inc. (At-Large Member)
Kate Jonas, BlackRock (Retirement Income Committee Vice Chair)
Jeanne La Porta, GE Asset Management (At-Large Member)
David Levine, Groom Law Group (Public Policy Committee Vice Chair)
Cynthia Mallett, MetLife (At-Large Member)
Joan McDonagh, Empower Retirement (At-Large Member)
John Payne, Heitman (At-Large Member)
Mike Raso, PineBridge Investments (Public Policy Committee Chair)
Michael Riak, Pantheon (Plan Administration Committee Vice Chair)
Jim Smith, Morningstar/Ibbotson (At-Large Member)
Donald Stone, Plan Sponsor Advisors, a division of Pavilion Advisory (At-Large Member)
Steve Ulian, Bank of America/Merrill Lynch (Plan Administration Committee Chair)
Suzanne van Staveren, Goldman Sachs (At-Large Member)
DCIIA has grown from 42 founding members in 2010 to over 160 members in 2015, representing a diverse coalition of over 1,900 defined contribution industry leaders.
About DCIIA:
The Defined Contribution Institutional Investment Association (DCIIA) is a nonprofit association dedicated to enhancing the retirement security of American workers. Toward this end, DCIIA fosters a dialogue among the leaders of the defined contribution community who are passionate about improving defined contribution outcomes. DCIIA members include investment managers, consultants, law firms, record keepers, insurance companies, plan sponsors and others committed to the best interests of plan participants. For more information, visit: http://www.dciia.org.