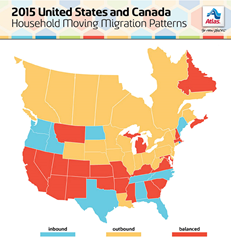 Evansville, IN (PRWEB) January 21, 2016
According to one of the nation's leading movers, the 2015 Atlas Van Lines Migration Patterns study found that 12 U.S. states, along with the nation's capital, experienced a shift in migration status in 2015. The study also found that 20 states, in addition to Washington D.C., registered as balanced—meaning that moves in and out of the states were roughly equal—18 as outbound, and 12 as inbound. Additionally, the data showed the overall number of moves was up from 2014. The company has conducted the study since 1993 to track the nation's interstate (or between states) moving patterns year to year as reflected in moves handled by Atlas.
For the fourth consecutive year, the states with the highest number of total moves were California (14,973), Texas (12,403) and Florida (10,534). The states with the highest percentage of inbound moves included Oregon (64 percent), Idaho (63 percent), North Carolina (61 percent), Alaska (60 percent), and North Dakota (59 percent). The states with the highest percentage of outbound moves included Hawaii (62 percent), New York (61.8 percent), Illinois (61.7 percent), South Dakota (60 percent) and Wyoming (59.5 percent). Oregon is the study's inbound leader for its first time since 1995, and Hawaii the outbound leader since its same classification in 1997.
Former inbound states New Hampshire and Mississippi became balanced in 2015, along with Washington D.C. This marks the first time in more than 13 years that Washington D.C. has not classified as inbound. After spending 2014 as balanced states, Hawaii, Louisiana, Wisconsin, Iowa and South Dakota became outbound while Maine, Rhode Island, Alaska and Alabama became inbound. Missouri shifted from outbound to balanced.
In 2015, the total number of interstate and interprovincial moves reached 77,705, up from 76,979 in 2014.
"Our annual migration patterns study is not only a resource for the relocation industry, but it provides invaluable insights into the nation's economic landscape," said Jack Griffin, president and COO of Atlas World Group. "We are excited to utilize the data to identify interesting shifts both nationally and regionally this year, and it is promising to see moves increased in 2015."
Northeast Region
The Northeastern states saw three major changes from 2014 to 2015, with Maine and Rhode Island going from balanced to inbound. Also, New Hampshire went from an inbound to balanced. The remainder of the states did not undergo any status change in 2015. New York and New Jersey have been outbound for more than 13 years.
South Region
The Southern region experienced four changes among three states and Washington, D.C., with Alabama going from balanced to inbound, and Louisiana shifting from balanced to outbound. Mississippi and Washington, D.C. both changed from inbound to balanced. This is the first time Washington D.C. has not registered as inbound in more than 13 years.
Midwest Region
The Midwestern states experienced a major shift to outbound moves, with Wisconsin, Iowa and South Dakota going from balanced to outbound in 2015. Missouri, however, shifted from outbound to balanced. Similar to 2013 and 2014, North Dakota was the only state in the region to register as inbound.
West Region
The Western states experienced two changes in 2015, with Alaska going from balanced to inbound, and Hawaii shifting from balanced to outbound. Hawaii registered as the most outbound state in the U.S., with 62 percent of moves leaving the state. Wyoming was the only other outbound state in the West region, with the majority of the Western states registered as balanced.
Canadian Provinces
Seven of the 10 Canadian provinces remained outbound, including Alberta, British Columbia, Manitoba, New Brunswick, Ontario, Quebec and Saskatchewan. The three additional provinces, including Newfoundland and Labrador, Nova Scotia and Prince Edward Island, shifted from outbound to balanced in 2015.
How status is determined
Each state's or province's status is determined by its threshold value, which is the total number of shipments multiplied by 0.55 (i.e., in a state with 100 moves, at least 55 must be outgoing to be considered outbound). All other states or provinces in which outbound or inbound numbers don't exceed the threshold are classified as balanced. Shipments noted for Canada are cross-border to the U.S. or from the U.S. (not inter-provincial).
To view full results of the 2015 migration patterns, a map and annual histories for each state, visit http://atlasvanlines.com/migration-patterns/. For an infographic illustrating the results, visit http://www.atlasvanlines.com/atlas/infographics/2015-migration-patterns/.
About Atlas Van Lines
Atlas Van Lines, a national moving company, is the largest subsidiary of Atlas World Group, an Evansville, Ind.-based company. Atlas World Group companies employ nearly 700 people throughout North America. Nearly 500 Atlas interstate moving agents in the United States and Canada specialize in corporate relocation, household moving services and in the specialized transportation of high-value items such as electronics, fine art, store fixtures and furniture. For more information, visit http://www.atlasvanlines.com.