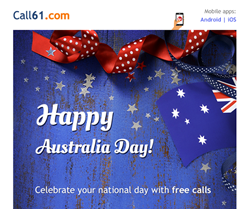 Excellent service and prices. Thank You! (Joy Siegel's message to Call61.com Customer Support team)
Atlanta, GA (PRWEB) January 23, 2016
Call61.com, the brand which has been serving Australians worldwide for years, announces free calls to landlines in Australia on Australia's National Day. This is a way to support long-distance communication on the most important day for the Australian community worldwide. The condition to benefit from the generous offer is to have an account on the website and to have bought at least $2 Voice Credit in the past. The offer addresses both old customers who have at least $0.01 balance or new ones who can purchase a minimum of $2 prior to January 26th: http://call61.com/buy/voice
It costs nothing to open an account on Call61.com and regular rates are very low. Just to have an idea, $2 Voice Credit brings 133 minutes to landlines outside Australia National Day Promotion, or 33 minutes to mobiles in the country, or a cocktail of minutes to both landlines or mobiles in Australia at 1.5 ¢/min, respectively 5.9 ¢/min.
The free calls to landlines in Australia on January 26th are available until 23:59 EST, they are unlimited and for anyone having friends or family in Australia. Indeed, Call61.com serves not only Australians, but anyone making regular or occasional calls to Australia. On January 26th one pays zero on calls to landlines, and the regular 5.9 ¢/min for calls to mobiles there.
Customers can use any of the following methods to call from a smartphone, landline, pay phone or personal computer, according to their possibilities and preferences:
-KeepCalling app costs nothing to install on any iOS or Android devices for smartphone users.
-Those who don't have WiFi, 3G or 4G access, can use an Access Number in the area they live as listed on the website: http://call61.com/access_numbers_voice
-PC-to-phone calls can be made using Web Call desktop app, available in one's Call61.com account.
It saves 100% money and 99,9% time to use Call61.com on Australia's National Day. 99,9% time because you don't need to run to the store and get a calling card.
There are more advantages of using Call61.com if one is an Australian living in some other country:
-Calling features are available by default in one's Call61.com account, and cost nothing to activate
-Voice Credit balance never expires, so calls can be made whenever necessary, with no time limit
-Calls can be placed from anywhere in the world and rates displayed on the website are the same
-Payments are accepted in any currency, no matter the country
-Paypal accepted besides all major cards are accepted
-One can choose the currency displayed in his or her account
On regular basis, the best rate to call Australia is 1 ¢/min and that is available with Australia 1000 Monthly Plan. This subscription brings 1000 minutes to both landlines and mobiles in Australia. It is flexible and requires no contract. It can be deactivated and re-activated whenever necessary: http://call61.com/product/monthly_plan
The Voice Credit product on Call61.com facilitates international calls to Australia sa well as other destinations, while the subscription comprises minutes only to Australia. On the other hand, one can use both Voice Credit and the Monthly Plan. If one runs out of minutes of his / her subscription, he / she can get some Voice Credit until the renewal of the next month calling plan.
Virtual Number is another option available on Call61.com. It is actually a number in another country than the residence one. Having a Virtual Number helps customers receive unlimited calls from friends and family as if they were two streets away. So, for a low monthly fee, one can help relatives from another country call abroad and pay for the call as for a local call. For example, if one lives in New Zealand and chooses a Virtual Number in Adelaide, for $9.99 / month, one can be called by people in Australia as if he or she was there.
About Call61.com
Call61.com is an interactive website designed by KeepCalling, a global telecommunications company registered in 2002 in USA. Presently, KeepCalling provides its services to hundreds of thousands of consumers and businesses, with a focus on customer satisfaction. KeepCalling has been listed by Inc 5000 as one of the fastest growing companies in the USA for 5 consecutive years. In 2015 the company registered a revenue increase of over 200% from 2011 to 2014.