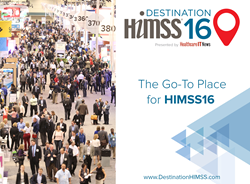 Destination HIMSS is the online resource for health IT decision-makers
PORTLAND, Maine (PRWEB) January 21, 2016
HIMSS Media, the fastest growing B2B media organization for healthcare and technology, and Healthcare IT News, the industry's authoritative source for health IT decision-makers, just launched Destination HIMSS, an integrated, multi-platform online channel featuring all things HIMSS16. This channel, powered and hosted by Healthcare IT News, provides a dynamic preview of HIMSS16, the nation's largest health IT conference, and all coverage around this event.
Destination HIMSS is sponsored by an impressive list of innovative companies, including American Well, athenahealth, Battelle, Cox, Lenovo and Verizon.
"With nearly a dozen of our reporters covering HIMSS16 leading up to the show together with the live event, Destination HIMSS will feature hundreds of articles delivering both news and a contextual perspective on what it really means to hospital and payer executives including CEOs, CIOs, CISOs, CMIOs, clinicians, IT shops and, of course, first-time HIMSS conference attendees," said Tom Sullivan, editor-in-chief, Healthcare IT News. "We're all over the scorching-hot trends: big data and analytics, connected health, patient engagement, privacy, security and population health management."
"Destination HIMSS is the online resource for health IT decision-makers," said Gus Venditto, vice president of content and product development, HIMSS Media. "The integrated, digital channel features exclusive one-on-one interviews with HIMSS16 keynotes, thought leadership from industry trailblazers, policy updates and comprehensive coverage of the biggest show floor happenings."
This site features exclusive content produced by Healthcare IT News' award-winning editors, and can be accessed leading up to, during and after the conference. Destination HIMSS premier trade show coverage includes:

Live show floor coverage
Policy and compliance updates
One-on-one interviews with HIMSS16 speakers
Health IT thought leadership from industry peers
Video interviews
Exclusive education session previews and more!
Visit Destination HIMSS at DestinationHIMSS.com.
About HIMSS
HIMSS is a cause-based, not-for-profit organization focused on better health through information technology. HIMSS leads global efforts to optimize health engagements and care outcomes using information technology. Founded in 1961, HIMSS encompasses more than 61,000 individuals, of which more than two-thirds work in healthcare provider, governmental and not-for-profit organizations across the globe, plus over 640 corporations and 400 not-for-profit partner organizations that share this cause. HIMSS, headquartered in Chicago, serves the global health IT community with additional offices in the U.S., Europe and Asia. Visit himss.org.
ABOUT HIMSS MEDIA
HIMSS Media is the fastest growing B2B media group focused exclusively on healthcare and technology markets. Through its suite of market-leading brands, such as Healthcare IT News, Healthcare Finance and MobiHealthNews, HIMSS Media delivers news, analysis and must-have information to an audience of senior healthcare and technology influencers. HIMSS Media is also the leading producer of important live events, such as the Privacy & Security Forum, Patient Engagement Summit, Revenue Cycle Solutions Summit and Big Data & Healthcare Analytics Forum.
About Healthcare IT News
Healthcare IT News, a HIMSS Media publication, is the industry's authoritative source covering the people, policy and technology driving next-generation healthcare in the U.S. For more than 12 years, it has been the leading voice of health IT, delivering strong and unbiased editorial insights on compelling topics such as electronic health records, health information exchange, privacy and security, data analytics, patient engagement, population health and revenue cycle management. Healthcare IT News' audience spans across all media platforms and reaches some 54,100 qualified print subscribers and has more than 240,600 readers for print and digital products. For more information, visit HealthcareITNews.com.