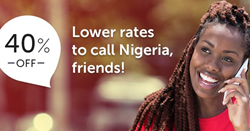 Good service. I haven't had any issues so far! Thank you! (Bonita Love on Trustpilot.com)
Atlanta, GA (PRWEB) January 23, 2016
TelephoneNigeria.com announces up to 40% OFF on international calls to landlines and mobiles in Nigeria starting January 2016. The price drop results in rates as low as 2.9 ¢/min with any of the two Monthly Plans, and 4.9 ¢/min with the Voice Credit product. The change in prices helps Nigerian diaspora save up to 40% on their international calls home. The long-term decision comes as a result of constant effort to reduce costs without affecting the call quality, free features, loyalty points and other service benefits on http://telephonenigeria.com/.
Those who are new to the calling service on TelephoneNigeria.com may find it useful to understand the difference between Voice Credit and a Monthly Plan. The Voice Credit balance never expires and helps make long distance calls to Nigeria and other destinations in the world. The discounted rate to call both landlines and mobiles in Nigeria with TelephoneNigeria.com is 4.9 ¢/min.
A Monthly Plan includes minutes to landlines and mobiles in Nigeria alone. The balance renews monthly, while minutes left unused do not roll from month to month. If one is calling Nigeria regularly, this is the best option due to the best unique price: 2.9 ¢/min. Nigeria 500 subscription includes 500 minutes, while Nigeria 1000, 1000 international minutes.
Calls can be placed in 3 different ways, once someone has registered on TelephoneNigeria.com:
-KeepCalling app is free to install on any iOS or Android devices.
-Those who don't have WiFi, 3G or 4G access, can use an Access Number in the area they live as listed on the website: http://telephonenigeria.com/access_numbers_monthly_plan
-PC-to-phone calls can be made using Web Call desktop app, available in one's Call61.com account.
Expats chose TelephoneNigeria.com for more advantages, as shown on review platforms:
-Free calling features are available in the online account
-Voice Credit balance never expires, so calls can be made whenever necessary, with no time limit
-Calls can be placed from anywhere in the world and rates displayed on the website are the same
-Payments are accepted in any currency, no matter the country
-Paypal accepted besides all major cards are accepted
-One can choose the currency displayed in his or her account
Besides the calling service, TelephoneNigeria.com hosts another service that facilitates mobile credit transfers from country to country. It is called Mobile Recharge and can be used to send mobile credit to prepaid mobile phones in NIgeria subscribed to MTN, Airtel, Glo, Etisalat and Visafone Nigeria. It takes 1 minute at most to order credit for a mobile in Nigeria online, on TelephoneNigeria.com.
Regular promotions are also very popular with TelephoneNigeria.com. All those interested to keep updated are following TelephoneNigeria.com on Facebook: https://www.facebook.com/TelephoneNigeria/?fref=nf
About TelephoneNigeria.com
TelephoneNigeria.com is an interactive website designed by KeepCalling, a global telecommunications company registered in 2002 in USA. Presently, KeepCalling provides its services to hundreds of thousands of consumers and businesses, with a focus on customer satisfaction. KeepCalling has been listed by Inc 5000 as one of the fastest growing companies in the USA for 5 consecutive years. In 2015 the company registered a revenue increase of over 200% from 2011 to 2014.