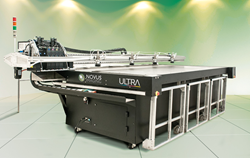 "We continue our efforts of Expanding Opportunities to better serve our clients and push the technology envelope to deliver industry-leading products to meet our customers' needs and ex-pectations," said Tamir Luria, Vice President of Operations
Hudson, MA (PRWEB) January 21, 2016
Grand Image, Inc. the leader in wholesale grand format digital printing increased their direct-to-substrate printing capabilities with the addition of a new Novus Ultra II 5'x 10' UV LED Flatbed Printer.
The Ultra II is a state-of-the-art, industrial-grade, 5' x 10' flatbed printer designed and made in the USA by Novus Imaging, Inc. ULTRA's steel frame and high quality components coupled with ground breaking features – outstanding grayscale print quality and auto masking to save hours of set up time – combine to deliver a solid, dependable, built-to-last printer.
The Ultra II features uncompromising print speed, image quality and adhesion. Low cure tem-peratures allow printing on a variety of thin substrates. Utilizing dynamic variable drop technology to print grayscale saves on ink consumption while delivering flawless skin tones, smoother tonal transitions and crisp, clear text.
ULTRA II is compatible with most commonly used materials like corrugated plastic, foam board, corrugated board, canvas, glass, metal and tile. The ULTRA II was designed to meet the following application requirements for grand format printing; packaging, indoor & outdoor signage, posters, exhibits & trade shows, POP, backlit signs and home decor.
"We continue our efforts of Expanding Opportunities to better serve our clients and push the technology envelope to deliver industry-leading products to meet our customers' needs and ex-pectations," said Tamir Luria, Vice President of Operations. The upgrade to the Ultra II was the next logical step to help us meet those expectations in direct-to-substrate printing.
Grand Image, Inc. is based in Hudson, Massachusetts and is the leader in wholesale grand and large format digital printing. The company was founded in 1996 by Eli and Leah Luria and serves resellers of grand and large format indoor and outdoor graphics including fabric graphics, display graphics, self-adhesive prints, billboards, banners, posters, and more.
For more information please contact:
Brian Leonard
Grand Image Inc.
Marketing Manager – Business Development
560 Main Street
Hudson, MA 01749
978.567.9408
brian.leonard(at)grandimageinc(dot)com
http://www.grandimageinc.com