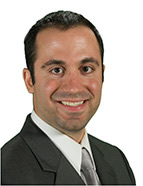 "We often only need to make minor adjustments to see amazing, natural-looking results," said Dr. Taban
Los Angeles, CA (PRWEB) January 22, 2016
Millions of people are inspired by the New Year to finally make the change they've always wanted to make to improve their healthy and daily lives. For many, the change involves undergoing a procedure that transforms their appearance and gives them new confidence. According to Beverly Hills oculoplastic surgeon Dr. Mehryar (Ray) Taban, one of the most popular procedures for 2016 is eyelid surgery.
"The most visible signs of aging occur around the eyes," said Dr. Taban. "The delicate skin around the eyelids can begin to sag and wrinkle over time, making a person look tired or sad regardless of how they really feel. In some cases, the skin can become so loose and heavy that it weighs down the upper eyelids to the point where it causes real issues with their vision."
Eyelid surgery, also known as blepharoplasty, essentially involves removing excess skin and/or fat around the upper or lower eyelids to reduce puffiness, wrinkles, and sagging. Upper blepharoplasty is often combined with a procedure called upper eyelid ptosis surgery, which tightens the levator muscles that are used to lift the eyelids (droopy eyelid surgery). Over time, the levators can become stretched or weak over time, making it difficult to open the eyes (droopy eyelids).
"Eyelid surgery is typically a very simple procedure that may not take any more than 45 minutes to an hour for some patients," added Dr. Taban. "Some patients assume that because the operation deals with the eye region eyelid surgery must be intensive, but that is not the case. We often only need to make minor adjustments to see amazing, natural-looking results. And surprising to all patients, recovery after eyelid surgery is not painful."
Unlike other treatments designed to reduce wrinkles and sagging skin around the eyes, eyelid surgery, such as upper or lower blepharoplasty or ptosis surgery, create long-lasting results without leaving visible behind scars.
"Patients are often concerned about noticeable scars or unflattering results that make them look as if they've had work done," said Dr. Taban. "But we perform eyelid surgeries in such a way as to conceal any scars within the eyelids' natural crease line. Any scarring is faint to begin with and disappears within a few weeks. More important than scars is maintaining the natural eyelid contour and position."
Drooping eyelids can have a remarkable impact on an individual's self-esteem and general comfort. Eyelid surgery is a permanent solution to tired, sad, or angry- looking eyes and relieving uncomfortable symptoms.
"Blepharoplasty for the upper or lower eyelids and upper eyelid ptosis surgery (droopy eyelid surgery) can really transform a person's life," said Dr. Taban. "With a rejuvenated appearance and healthier eyes, our patients typically feel more confident and comfortable on an everyday basis. It can be a life changer."
Mehryar (Ray) Taban, MD, is a Santa Barbara and Beverly Hills, Los Angeles oculoplastic surgeon (cosmetic and reconstructive eyelid plastic surgery) who is committed to his patients' progress and results. He offers an array of reconstructive and cosmetic procedures, with a focus on the face in general and the eyes in particular. He has had extensive training, and is triple board-certified by the American Society of Oculofacial Plastic Surgery (ASOPRS), American Board of Cosmetic Surgery (ABCS) and American Board of Ophthalmology (ABO). Due to Dr. Mehryar (Ray) Taban's expertise in eye plastic surgery, he is often called upon to help other physicians with their complex cases, and frequently publishes articles and lectures to physicians around the country. He is also often asked to be expert witness on various eyelid surgery cases.
For more information on Dr. Taban and his services, please visit http://www.TabanMD.com.