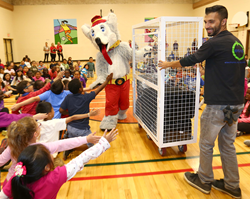 To a refugee, a computer offers hope - access to employment resources, communication with family members back home - and we can provide that hope with your help
Calgary, AB (PRWEB) January 23, 2016
The Electronic Recycling Association (ERA) is requesting that the public consider donating older or unwanted computer equipment that may be refurbished for reuse by newcomers to Calgary. Working with the Calgary Bridge Foundation for Youth (CBFY), ERA hopes to provide computer equipment to dozens of families expected to arrive in the city over the next few months.
"Our goal is to provide the Bridge Foundation with 100 computers throughout 2016 specifically for refugee families," says Bojan Paduh, founder and president of the ERA. "The challenge is that our first priority is meeting the requests of Canadian charities and families, so we are asking the public for help to gather equipment specifically for refugees. Most households and certainly businesses have unwanted or disused computer equipment, all we ask is that they give us a call, let us come pick it up and see if we can reuse it for the refugees arriving in Calgary this year."
ERA specializes in managing retiring corporate IT assets as well as the unwanted computer equipment of individual families. They collect the equipment through pickup services and drop-off depots, test equipment for relevance and then refurbish it as necessary. Much of what ERA is able to recover is then used to support their Canada-wide computer donation program, which provides computer equipment, free of charge, to registered charities, non profits, care facilities and educational institutions.
Organizations and individuals interested in donating unwanted equipment specifically to support refugees through CBFY are advised to drop off equipment at the address outlined below, or contact ERA to book a pickup.
Depot Location:
1301 34 Ave SE
Calgary, AB T2G 1V8
Hours of Operation:
Monday to Friday
8:30am to 5:30pm
Saturday
10am to 4pm
To book a pickup: Call: 1.877.9EWASTE or local 403.262.4488
Email: info(at)era(dot)ca
About the Electronics Recycling Association
Established in 2004, the ERA specializes in waste electronics management, reuse and recycling in Canada. We are unwaveringly committed to reducing electronic waste by extending their lifecycle through electronics donation services, recycling non-reusable electronics, computers, laptops, phones and more. With depots all across Canada, the ERA provides a great way to recycle electronic equipment safely and securely while supporting less fortunate Canadians with free IT equipment.
Media enquiries may be directed to:
Kristi Gartner
Marketing and Communications Manager
Electronic Recycling Association
Phone: 403-262-4488
kristi(at)era(dot)ca