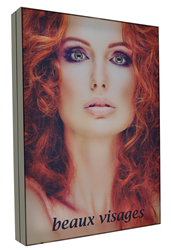 Hudson, MA (PRWEB) January 26, 2016
Grand Image, Inc. the leader in wholesale grand format digital printing announced the debut of their new SEG (silicone edge graphic) product line; "vivid SEG fabric & frames".
Vivid is an SEG fabric & frame system featuring a high-resolution, digitally printed, dye sublimation graphic with a silicone strip sewn directly into the edge of the fabric. The edge of the finished graphic is then inserted into a recessed grove of a brushed aluminum frame. The results are a taut, flat presentation with minimum frame exposure and big, bold, vivid graphics that demand attention.
The high resolution digital dye sublimation printing process on fabric produces a vivid color density that is unmatched by commercial printing. The graphics are durable, lightweight, easy to care for and simple to install or change.
By inserting the silicone edge of the graphic into the frame the results are a less visible frame with more visible graphic, neatly finished corners and a tight, smooth, visually appealing finish.
Vivid SEG fabric & frames are offered in LED and non-lit styles and are available in wall mounted, double-sided, hanging, and free-standing frames. Frames and graphics are fabricated and printed in a wide variety of standard sizes with custom sizes also available.
Ideal for Trade Shows, Hotels, Car Dealerships, Museums, Backdrops, Theatre, Public Signage, Home, Business Interiors, Retail, Restaurants, and more
Grand Image, Inc. is based in Hudson, Massachusetts and is the leader in wholesale grand and large format digital printing. The company was founded in 1996 by Eli and Leah Luria and serves re-sellers of grand and large format indoor and outdoor graphics including fabric graphics, display graphics, self-adhesive prints, billboards, banners, posters, and more.
For more information please contact:
Brian Leonard
Grand Image Inc.
Marketing Manager – Business Development
560 Main Street
Hudson, MA 01749
978.567.9408