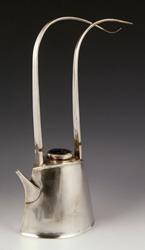 Beverly, MA (PRWEB) January 25, 2016
Kaminski Auction's January 17th auction realized a Kaminski auction record for a single teapot. The unusual piece crafted by the renowned couple Michael and Maureen Banner sold for $18, 0000 with buyer's premium. Art Daily .Org featured the teapot as the Best Photo of The Day on it's website giving the piece excellent exposure before the auction.
Michael and Maureen Banner are 20th century silversmiths from Monterey, Massachusetts whose work is represented in prestigious collections across the country, such as the Smithsonian American Art Museum, The Art Institute of Chicago, and The Museum of Fine Arts Boston to name a few. The hand-wrought modern teapot sold by Kaminski was crafted of sterling silver and enamel and stood sixteen and one eighth inch high and weighed approximately 26.0 troy ounces.
A second teapot crafted in porcelain by Ralph Bacerra(American, 1938-2008) on a stand signed "Bacerra 90" sold for $10,200.
Meeting our expectations the top lot of the sale was a 19th century Russian porcelain figure of Bacchus standing twelve inches high by eight inches wide from a California estate that was finally hammered down at $26,400.
Kaminski Auctions has an ambitious schedule of auctions ahead for the end of January and February 2016.
The collection of the internationally renowned design icon Thomas Britt is featured on Sunday, January 31st, 2016 starting at 10:00am. Known for his creative designs incorporating bold colors and luxurious textures his style is always a harmonious blend of classic and modern design.
We are pleased to offer decorative items that graced his Manhattan apartment and Long Island seaside retreat. There is also a selection of custom furniture and objects from his company warehouse that he designed and sourced for his clientele from around the globe.
The Thomas Britt Collection is followed in February with an Unreserved Estate auction on February 21st, an Estate Auction February 27th, featuring the second part of the Emily Hall Tremaine Collection from Santa Barbara, California and Madison, Connecticut and the first Fine Asian Art and Antiques auction of the New Year on February 28th, 2016.
All auctions are held at the Kaminski Auctions gallery at 117 Elliott Street, (Rt.) 62, Beverly, Massachusetts. For more information and to register to bid with KaminskiLIVE go to http://www.kaminskiauctions.com.