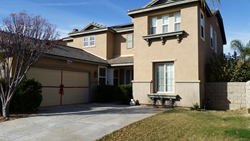 "The down payment required with a traditional loan would have been $30,000, and we could not have been able to afford that." said Sand. "The VA loan made owning our house a reality, and restored pride in our family."
Chicago, IL (PRWEB) January 23, 2016
Overview

Guaranteed Rate explains intricacies of military housing benefits.
Media opportunity to interview an impacted veteran in California and VA loan specialist.
Guaranteed Rate produced $356 million in VA loans in 2015; makes VA loans a 2016 priority.
Guaranteed Rate, the eighth largest retail mortgage lender in the nation and an industry technology leader, raises awareness about the U.S. Government's VA loans. These home loans may provide the military community and their families the opportunity to become homeowners for $0 down or obtain a home loan up to $1 million dollars.
Guaranteed Rate originated $356 million in VA Loans in 2015, helping military families across the country move into their dream homes.
"This year, we are renewing our efforts to help even more military families take advantage of this life-changing benefit," said Victor Ciardelli, president and CEO of Guaranteed Rate. "VA loans can eliminate daunting down payments and make million-dollar homes affordable."
Benefits of VA Loans

No down payment for conforming home loans (generally loans below $417,000)
Reduced down payment costs for jumbo loans (generally loans above $417,000)
Interest rates are typically lower than traditional loans
Requires no mortgage insurance
Eligibility
In general, to be eligible you must have a credit score of at least 620 and fulfil at least one of the following requirements*:

Served 90 total days during wartime
Served 181 continuous days during peacetime
Served more than six years in the National Guard or Reserves
Are the spouse of a veteran who died in the line of duty or due to a service-related disability
*Additional restrictions may apply.
Sand H. of Riverside County, CA, a father of three, served in the artillery division of the Marine Corps. After losing his house during the recession, he worked hard to improve his credit score. Guaranteed Rate recently helped him obtain a VA loan and move into a house for the holidays.
"The down payment required with a traditional loan would have been $30,000, and we could not have been able to afford that." said Sand. "The VA loan made owning our house a reality, and restored pride in our family."
To learn more about VA Loans visit https://www.guaranteedrate.com/resources/you-and-your-va-mortgage-loan. To arrange a media interview with a veteran helped by Guaranteed Rate or a VA loan specialist, contact Elizabeth Fay, director of public relations at Guaranteed Rate, at (773) 290-0059 or press(at)guaranteedrate(dot)com.
About Guaranteed Rate
Guaranteed Rate is the eighth largest retail mortgage lender in the U.S. The company has become The Home Purchase Experts® by introducing the world's first Digital Mortgage and offering low rate, low fee mortgages through an easy-to-understand process and unparalleled customer service. Headquartered in Chicago with approximately 175 offices across the U.S. and licensed in all 50 states, Guaranteed Rate has helped hundreds of thousands of homeowners with approximately $80 billion in home purchase loans and refinances since 2000 and $18 billion in 2015 alone. Guaranteed Rate was ranked No. 1 in Scotsman Guide's Top Mortgage Lenders 2014 honors and was named one of Chicago's Top Workplaces by the Chicago Tribune in four of the past five years. In 2015, was recognized as one of Inc. 5000's Fastest Growing Companies in America. Visit guaranteedrate.com for more information.
Guaranteed Rate, Inc. is a private corporation organized under the laws of the State of Delaware. It has no affiliation with the US Department of Housing and Urban Development, the US Department of Veterans Affairs, the US Department of Agriculture or any other government agency.