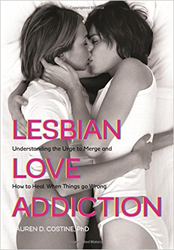 (PRWEB) January 25, 2016
Pasadena Recovery Center is proud to welcome Dr. Lauren Costine to their groundbreaking speaker series on Wednesday, January 27 at 12 P.M. Dr. Costine is a clinical psychologist, executive, author, and activist. She works with both individuals and couples and plays a key role in the feminist and LGBTQ communities. Dr. Costine will be addressing the critical issues outlined in her first book, Lesbian Love Addiction: Understanding the Urge to Merge and How to Heal When Things Go Wrong.
"We are so very honored to have Dr. Lauren D. Costine as our featured guest for this month's speaker series," says actress and Pasadena Recovery Center's Treatment and Recovery Advocate, Mackenzie Phillips. "We are all looking forward to hearing what this incredible woman has to say and the lessons she will share."
Dr. Costine's, Lesbian Love Addiction: Understanding the Urge to Merge and How to Heal When Things Go Wrong, encourages readers to develop an understanding of why lesbians merge and how to view traditional psychotherapy through a lesbian-affirmative lens in order to help themselves or their lesbian clients towards recovery from love addiction.
Dr. Costine received her M.A. in Psychology at Antioch University Los Angeles in 2001 and her Ph.D. in Clinical Psychology with an emphasis in Depth Psychology from Pacifica Graduate Institute in 2007. Dr. Costine believes in utilizing integrative psychotherapy to help her clients reach their treatment goals. Costine focuses on addiction, trauma, co-dependence, co-occurring issues, LGBT-affirmative psychotherapy, depth psychology and family systems.
Pasadena Recovery Center Speaker Series hosts amazing authors, entrepreneurs, celebrities, and experts to talk about their personal experiences with addiction and the way it has affected both themselves and the people around them.
Pasadena Recovery Center: Located in the charming historic district of Pasadena, the Pasadena Recovery Center was co-founded in 2000 by renowned psychiatrist Dr. Lee Bloom, his daughter Alison Triessl, and his son Michael Bloom. The 98-bed drug and alcohol treatment center is nationally known for its 12-step based comprehensive treatment program and highly skilled, licensed and certified staff. Pasadena Recovery Center is dedicated to providing compassionate, comprehensive care to those suffering from chemical dependency and is proud to offer lifesaving and life-changing treatment at an affordable cost. The Pasadena Recovery Center's goal is to reintroduce sober individuals into society with the skills necessary to lead meaningful, productive lives.