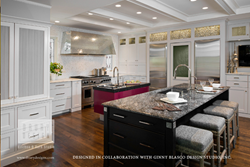 "Because we are competing against some of the top interior designers in the country, winning the ASID award is an important achievement. We are honored to be considered as part of this esteemed group of interior designers." Gail Drury, CMKBD
Glen Ellyn, IL (PRWEB) January 26, 2016
Ginny Blasco, ASID and Gail Drury, CMKBD combined talents to create an award-winning artistic kitchen design, which took the American Society of Interior Design's [ASID] Illinois Excellence Award in the kitchen category. This project is the team's third ASID award—in 2014, a multi-cook kitchen remodel in Burr Ridge and a reimagined rec room in Glen Ellyn each won ASID Illinois Excellence Awards.
Gail Drury, CMKBD remarked, "Because we are competing against some of the top interior designers in the country, winning the ASID award is an important achievement. We are honored to be considered as part of this esteemed group of interior designers." 
The project included adding a new conservatory space, which afforded the opportunity to renovate the kitchen and expand the existing floor plan. The family of five, with three children under the age of 17, entertains weekly and cooks together almost every day.
In addition to opening up a cramped space and modernizing the kitchen functionally, key priorities included establishing an eclectic, transitional look that combines traditional and contemporary design elements.
Before considering aesthetics, however, the designers had to overcome a few other design challenges, including dissolving load-bearing posts into the new flow, transferring a coat closet into a new, lower-level mud room, and conveniently locating the pantry while hiding access from view.
After effectively addressing these challenges, the designers went to work heightening form and function in three distinct work zones for cooking prep, clean up and a breakfast bar.
Outlining its own work triangle, the cooking zone has a separate prep sink across from the range, with easy access to the refrigerator. A clean-up area within a large island is strategically placed close to a built-in banquette designed around the structural posts.
For convenience, the breakfast bar features a dedicated sink, coffee area, refrigerator drawers and an icemaker across from the banquette.
A red, high-gloss lacquered island accents the off-white and espresso-stained kitchen and anchors a baking area. Above the range, a custom, hammered zinc hood creates a focal point and hammered pewter tile inserts frame the corners of the large island. Two fabric-covered pocket doors conceal a message center stocked with amenities. Custom lattice doors on the back of the banquette add intrigue to the family room. Grabill custom cabinetry in maple and Lyptus lends a signature look, while Wolf and Sub-Zero appliances add high-tech performance and high-volume capacity.
In the dining room, a two-sided wine bar allows light to stream in from the foyer, and adds a more traditional feel to the transitional, borderline contemporary, kitchen.
When asked to describe the concept, Ginny explained, "A large addition grew the room from small to spacious. We started with a tiny, outdated kitchen. With the addition, the room grew into a gracious kitchen with multiple work zones for different activities such as entertaining, relaxing at the breakfast bar, baking during the holidays, doing homework, and of course, everyday family use."
Jim Drury, vice president of Drury Design, noted the studio accepts the award on behalf of their clients, adding, "Client-focused design is what sets Drury Design apart. We've been honored with awards that demonstrate the industry's appreciation for our clients' visions and their investments."
 
An ASID member, Ginny submitted the project for consideration. She says, "I have been an ASID member since I was in school. ASID is our 'Professional Voice' for Interior Designers. Chicago is in an elite group of global cities and is known for its beauty and resources. My peer group in Chicago includes some of the best Interior Designers in the country. To receive recognition from such a community of talent is an honor. The bar is set very high in Chicago; our office works toward delivering to this level and exceeding it. This is a co-award for Gail and I—it is 'Our Project'—and we are a part of two design firms that collaborate and enjoy working together!"
About the American Society of Interior Design (ASID)
Nationally, ASID counts more than 30,000 members who engage in a variety of professional programs and activities through a network of 48 chapters throughout the United States and Canada. The American Society of Interior Designers - Illinois Chapter (ASID-IL) is a professional association representing the interests of over 1,100 interior designers, students and design industry partner members in Illinois. For many years the ASID Illinois Chapter has recognized superior interior design as part of the annual Design Excellence Competition. ASID Illinois invites designers to submit their best work and compete in 24 different categories. Winners are selected by a distinguished panel of judges and are then honored at the Celebration of Design Awards gala.
About Ginny Blasco Design
Ginny Blasco is the founder and Principal Designer of Ginny Blasco Design Studio. Her firm's goal is to provide the highest level of customer service and brings to the project 20 years of Design and Project Management. They are a boutique design firm that has a proven track record of residential and corporate Interior Design. Located in Chicago at 420 W. Huron Street, Suite 301, the company may be reached by phone at 312.867.9210 or via email at ginny AT blascodesign.com. To view portfolios online, visit Ginny Blasco Design on Houzz and Facebook.
About Drury Design 
Founded by Gail Drury, CMKBD in 1987, Drury Design's Client Focused Design™ approach integrates design recommendations, materials selection and construction management into one seamless customer design, project management and build experience. For kitchen, bath and home remodeling ideas, view Drury Design's interior design and kitchen design portfolio at http://www.drurydesigns.com/portfolio/, visit Drury Design on Houzz, or stop by the studio at 512 N. Main Street in downtown Glen Ellyn, Illinois. The company may be reached by phone at 630.469.4980 or via email at jim AT drurydesigns.com.