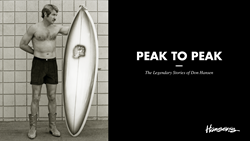 I actually hitchhiked from South Dakota to California to surf.
San Diego, CA (PRWEB) January 27, 2016
Peak to Peak is the story of legendary outdoorsman and Hansen Surfboards founder, Don Hansen. Follow along as this epic story of the original king of cool is told. From his humble beginnings in South Dakota to finding his way on the famed North Shore, Don has done and seen it all. Hansen's is honored to share the vision, passion, and amazing journey of one of surfing's most iconic craftsmen.
Don Hansen was born in a small, dusty plain town in rural South Dakota. After spending 18 years in the cold, barren state, Don decided to hitchhike his way to California to surf and embrace the beach lifestyle. Hansen would eventually learn how to craft surfboards and would go on to work with iconic legends, such as Jack O'Neill and Hobie Alter. Don's passion for surfing would lead him to the famed North Shore of Oahu, where he would make the decision to launch his own label, Hansen Surfboards.
After finding worldwide success as a surfboard manufacturer, Don Hansen opened Hansen Surfboards, North County San Diego's premier retail surf shop. The family-run surf shop still thrives today. Peak to Peak is a once-in-a-lifetime opportunity to follow along as the legendary surfer, outdoor enthusiast and family man shares the story of his journey to icon status.
Watch Peak to Peak Part 1: Humble Beginnings here.
Hansen Surfboards
Hansen Surfboards is located in Encinitas, California, and has over 20,000 square feet of retail space. Hansen's is still the largest surf shop in San Diego County and remains family owned and operated. With independent and family based values still at the center of the Hansen's brand, the ongoing passion for providing an unparalleled retail experience hasn't changed.