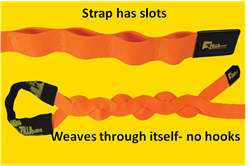 "Metal on traditional straps can become a missile if the strap breaks. Zilla Strap solves that."
Greenville, S.C. (PRWEB) February 10, 2016
CEO, Ron Mohling, announces that Greenville-based Southern Weaving Company, manufacturer of webbing, belting, sleeving and coated products, has launched Zilla tow straps. Zilla Straps, with a unique slotted construction, attach almost anywhere by weaving the strap through itself, then pulling to "lock" in place. The strap is then ready to safely tow or recover vehicles, ATVs, or snowmobiles, pull overgrown shrubs out of yard beds, or drag hunting carcasses from the woods.
"When a traditional strap breaks, metal parts on the strap can become missiles and cause catastrophic injuries or even death, whether you're pulling a vehicle stuck in mud or ice, or pulling shrubs out of a yard," Mohling said. "Safety products are our heritage, and we are proud to be able to offer Zilla Straps as a safer and easier tow strap for offroaders and other vehicle owners."
Mohling indicated that Zilla Straps can be attached to any secure anchor point, requiring no D-rings or other special hardware like traditional straps do, making them more versatile and easy to use. Southern Weaving produced slotted webbing for the military years ago, and now brings Zilla Straps to the consumer market. Zilla Straps are being produced at the company's ISO certified Greenville, S.C. facility.
Zilla Straps are offered in various lengths in two different widths, 1" wide with 10,000 lb. break strength and 2" wide with 15,000 lb. break strength. The product was designed for offroaders, but is a handy emergency strap for anyone to keep in a vehicle, especially those living in cold climates where vehicles may get stuck in snow or ice. The Zilla line also offers protective sleeves that go over the strap at anchor points and protect the strap from abrasion.
Southern Weaving has been in business since 1924 and has led the launch of technical textiles into many areas, from brake pads for the Model T Ford, to composite layers for the shell of inflatable space structures. Its operation includes manufacturing facilities in Greenville, S.C., and Anderson, S.C., with an international distribution network. The company makes narrow webbing that serves markets such as industrial slings, fall protection body harnesses, sporting equipment, coated straps, battery belts, and hydraulic hose sleeves.