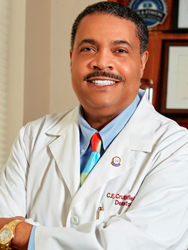 Dr. Crutchfield has served as a generous and influential mentor to hundreds of physicians throughout his career.
Minneapolis-St. Paul- Eagan (PRWEB) January 21, 2016
The 2015 First a Physician award was presented to Charles E. Crutchfield III, M.D. at the annual meeting of the Twin Cities Medical Society on January 12, 2016.
The First a Physician Award, established in 2007, recognizes a member of the Twin Cities Medical Society who has made a positive impact on organized medicine by selflessly giving of his/her time and energy to improve the public health, enhance the medical community's ability to practice quality medicine, and/or improve the lives of others in our community. The Award is given annually at the TCMS annual board of director's meeting.
Crutchfield's leadership involves volunteer work and community enrichment, teaching of residents and medical students, longstanding mentorship of physicians at all levels of training and excellence in clinical practice.
For years he has voluntarily written a weekly medical column in the Minnesota Spokesman-Recorder, our state's first African American newspaper. This particular volunteer work is significant for its volume (see the attached list of articles) and for its value to a historically medically underserved community. For many African American Minnesotans the Spokesman-Recorder is a trusted source of health news. The range of articles is impressive ranging from preventative medicine (what to do if stopped by the police) to cancer and heart failure.
His volunteer work extends, via his foundation, to support of Camp Discovery, a summer camp for children with severe skin diseases. He also has created and sustained a named lectureship at the University of Minnesota dedicated to ethnic skin. Through his combined works he has been at the forefront of improving the health of Minnesotans, and particularly Minnesotans of color.
Charles has also led by serving as a tireless teacher. He regularly lectures on a voluntary basis for the University of Minnesota Medical School. Most UMN graduates can recall his lectures – replete with pictures of his hairless cats and his children alongside various dermatoses. He regularly hosts rotating students and residents in his clinic. All of this work takes time, and is uncompensated, yet he continues to lead in this area. He holds a full professorship of clinical medicine at the University of Minnesota. He also serves as a visiting professor at his alma mater, Carleton College.
Besides his teaching, he is also a generous and influential mentor to many physicians. He has served as an influential mentor to hundreds of physicians throughout his career. Charles has been, and remains, a wise counselor, a standard bearer of integrity and civility, and a highly respected colleague. Dr. Crutchfield was nominated for this award by well known Twin Cities Dermatologist, Dr. Neil Shah.
About Charles E. Crutchfield III, MD:
Charles E. Crutchfield III, M.D. is a graduate of the Mayo Clinic Medical School and a Clinical Professor of Dermatology at the University of Minnesota Medical School. Dr. Crutchfield is an annual selection in the "Top Doctors" issue of Mpls. St. Paul magazine. He is the only dermatologist to have been selected as a "Best Doctor for Women" by Minnesota Monthly magazine since the inception of the survey. Dr. Crutchfield has been selected as one of the "Best Doctors in America," an honor awarded to only 4% of all practicing physicians. Dr. Crutchfield is the co-author of a children's book on sun protection and dermatology textbook. He is a member of the AΩA National Medical Honor Society, an expert consultant for WebMD and CNN, and a recipient of the Karis Humanitarian Award from the Mayo Clinic School of Medicine.
For more information on Charles E. Crutchfield III M.D. or Crutchfield Dermatology
Please call Jenny at our office at (651) 209-3628. Or visit our website at http://www.CrutchfieldDermatology.com