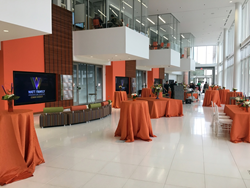 Clemson's Watt Family Innovation Center has created a unique, technology-driven learning model that, I believe, will serve as a prototype for future Innovation Centers across the world.
Pittsburgh, PA (PRWEB) January 22, 2016
This Friday, members of the BrightTree Studios team will be on hand to showcase technology at the Watt Family Innovation Center, a 60,000 learning mecca aimed at creating highly interactive and collaborative environment for students.
"This is the learning environment of the future," says David Vargo CTS-D, Principal of BrightTree Studios and lead system designer on the project. "Through the vision of Dr. Watt, Clemson University and a highly collaborative, design-driven process we have created a beautiful academic center built on 21st century technology capable of facilitating collaboration across multiple disciplines and accommodating the different learning pedagogies and preferences of millennials. The building is a highly-integrated blank canvas with unlimited potential."
"Innovation and collaboration are technology buzzwords that are often sought but rarely realized," says Bill McIntosh, President of BrightTree Studios. "Only through meticulous planning and design can an entire structure achieve building-wide interaction and collaboration through technology. It's not often a project of this scope and magnitude comes to fruition and I am extremely proud that BrightTree Studios played an integral role in this project's success."
The immersion into collaborative technology starts the moment students walk into the lobby and are met with a massive video wall flanked by 3 additional video walls lining the walkway. Each are touchscreen and interactive prompted by swiping a student ID.
Once inside the center, the technology elements continue and include a 200-seat auditorium where students in the digital production arts program showcase the 3D characters they have created to Clemson's corporate partners at Disney and DreamWorks. The real eye candy of this room? A 30-foot interactive video wall located front and center.
Another jewel of the building is the Academic Research Center (ARC): a space designed just for faculty. Technology in the ARC will simulate the different spaces in the building. Because it's hard to get into a room once the semester starts, this room will allow professors to practice different teaching styles and lessons that utilize the technology in each room.
"Clemson's Watt Family Innovation Center has created a unique, technology-driven learning model that, I believe, will serve as a prototype for future Innovation Centers across the world," says Bill. "My hat's off to Dr. Watt and Clemson University for their unbounded vision, contagious passion, and pursuit of challenging the status quo."
The Watt Family Innovation Center was designed by Perkins+Will out of Atlanta, GA.
ABOUT THE WATT FAMILY INNOVATION CENTER
The Watt Family Innovation Center utilizes state-of-the-art information technology and special facilities to enable undergraduate and graduate students — from all Clemson colleges — to think ahead of the curve, develop their own ideas with support from faculty mentors and connect to industry partners seeking new methods and solutions.
ABOUT BRIGHTTREE STUDIOS
BrightTree Studios is a full service, audiovisual consulting and design firm that partners with architects, owners, engineers, and end users to leading-edge environments used to inspire individuals to learn, create, work, and collaborate.
ABOUT DAVID VARGO CTS-D, CTS-I
With over a decade of experience in the audiovisual industry, David Vargo comes from a line of prestigious companies. He has experience designing and installing systems on over 200 projects for clients across the spectrum, including corporate, higher education, healthcare, telemedicine, and broadcast.
ABOUT BILL MCINTOSH CTS
Bill McIntosh is President of BrightTree Studios and co-founder of Synergy Media Group. Prior to establishing both practices, Bill spent more than two years working as a sales engineer with the world's largest AV integration firm, before joining the faculty of Carnegie Mellon University where he served as Director of Technology in the Computational Finance Program for both the Pittsburgh and Manhattan campuses.