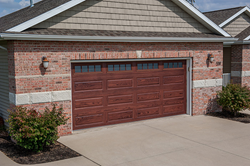 (PRWEB) January 23, 2016
C.H.I. Overhead Doors is pleased to introduce Accents Woodtones to the raised panel series or residential garage doors. Featuring the most advanced, highest resolution finishes available, Woodtones accurately portrays a non-repeating wood grain that is defined throughout the horizontal and vertical grains flowing through section joints as well as accentuating the recessed edge of the raised panel design. Once again C.H.I. is able to achieve the look of a hand crafted wood door at a lower cost.
Accents Woodtones is available on raised panel models 2216/4216 and 2283/4283 in Light Oak, Dark Oak, Cedar and Mahogany. Each model can be customized with window inserts and designer glass currently offered in raised panel doors.
The Accents line is available across our entire line of insulated doors, and can also be customized to include company logos, favorite sports teams or nature landscapes. Learn more about Accents at http://www.chiohd.com/garage-doors/residential.