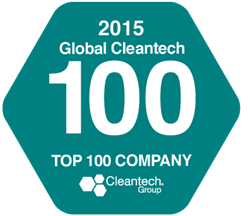 EnergySavvy's solution will provide a fast and effective way for our customers to make a positive impact on their business.
Seattle, Washington (PRWEB) January 26, 2016
EnergySavvy, a leader in enterprise cloud software for electric and gas utilities nationwide, announced it was named to the 2015 Global Cleantech 100, produced by Cleantech Group. The Global Cleantech 100 represents the most innovative and promising ideas in cleantech. Featuring companies that are best positioned to solve tomorrow's clean technology challenges, Global Cleantech 100 is a comprehensive list of private companies with the highest potential to make the most significant market impact.
This year, a record number of nominations were received: 6,900 distinct companies from 60 countries. These companies were weighted and scored to create a short list of 323 companies. Short-listed nominees were reviewed by Cleantech Group's Expert Panel, resulting in a finalized list of 100 companies from 17 countries.
"We're honored to be recognized among a stellar group of companies from around the world," said Aaron Goldfeder, CEO of EnergySavvy. "And we're even more excited to announce new and deeper relationships with some of the nation's biggest and most respected utilities. We're honored to work with these clients who have chosen our solutions to drive broad customer engagement across their many value-added programs."
Last year, EnergySavvy expanded its customer engagement solution, Optix Engage, to include small and midsize business, as well as direct mail and mobile solutions to reach the entire utility customer base. The entire solution drives the highest completion rates in the industry and is designed to compel action – namely, driving program participation and higher customer satisfaction.
EnergySavvy welcomes DTE Energy and Indiana Michigan Power, a division of AEP, to the company's more than 30 utility clients. DTE Energy is launching Optix Engage Residential, EnergySavvy's consumer-focused online engagement solution. At DTE, the solution is a core component of a customer engagement initiative led by Walker-Miller Energy Services.
Indiana Michigan Power chose Engage for Business, an online engagement solution for its small-to-midsize businesses in Michigan. "We want to make it as easy as possible for our business customers to participate in energy and money-saving programs," said Jon Walter, Regulatory Analysis and Case Manager at Indiana Michigan Power. "EnergySavvy's solution will provide a fast and effective way for our customers to make a positive impact on their business."
EnergySavvy is pleased to announce that Salt River Project expands its use of Optix Engage to include Engage Direct, an easy-to-use direct-mail energy assessment that enables engagement with customers who don't interact with their utility online. EnergySavvy also announces that Columbia Gas of Ohio and Tennessee Valley Authority (TVA), have selected Optix Manage to automate and enhance their income-eligible offerings.
As part of TVA's Smart Communities Extreme Energy Makeovers initiative, 4-County Electric Power Association also chose Optix Quantify, EnergySavvy's savings measurement software, to bolster its customer engagement and education through continuous data analytics. "The goals of the program are an electric energy usage reduction target of 25% per home, with an implementation cost of approximately $10.00 per square foot and an annual savings of 1,000 Megawatt-hours," said Jon Turner, Manager of Marketing for 4-County Electric Power Association. "We selected ICF International along with EnergySavvy to streamline our operations while ensuring the best experience for all customers."
About EnergySavvy
EnergySavvy is a leader in enterprise cloud software for the utility industry. Its Optix Platform drives customer intelligence, engagement and action through modern customer-centric software products and services. Over 30 utilities use Optix to deepen customer relationships and increase control, transparency, and agility within their customer operations. Learn more at http://www.energysavvy.com.