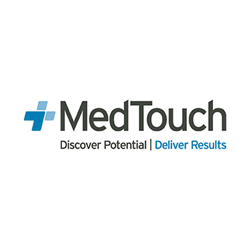 "We're excited for the opportunity to join and build this community. This is a thoughtful investment for our team as we plan for strong continued growth." - Paul Griffiths, CEO + Founding Partner
Boston, Massachusetts (PRWEB) February 17, 2016
MedTouch, the online strategy and technology partner for the best brands in healthcare, announced the transition to a new office space at Assembly Row in Somerville, Massachusetts. The MedTouch headquarters office move to the newly built Assembly Row complex marks the company's continued success as a leader delivering integrated digital strategy for hospitals and health plans and strategy for long-term growth.
For the past three years, MedTouch was named to the Boston Business Journal Pacesetters, an annual list of the fastest-growing private companies in Massachusetts, and the prestigious Inc. 5000 Fastest-Growing Companies list. With the expansion, MedTouch plans to continue to grow the team and available resources for clients in the upcoming years.
"We're excited for the opportunity to join and build this community. This is a thoughtful investment for our team as we plan for strong continued growth," remarks Paul Griffiths, CEO + Founding Partner at MedTouch.
MedTouch was attracted to the distinct mix of retail, residences and offices of Assembly Row, as well as its dynamic neighborhood and its mission to build the community and create a hub for businesses in Somerville. The development was named one of The Boston Globe Magazine's 2015 "Game Changers," and Boston Business Journal deemed it among the top 10 "transformative projects shaping Greater Boston." As one of the "first-movers" to office space at Assembly Row, MedTouch paves the path for further business growth and innovation for this vibrant community.
MedTouch headquarters is located at 450 Artisan Way, Suite 310, Somerville, MA 02145. Highly regarded for its culture, MedTouch worked with architects to design the new space to inspire collaboration, employee health and happiness, and productivity. The space incorporates new features, such as ergonomic workstations and a dedicated open collaboration space. Assembly Row is located 3 miles north of Boston and easily accessible with its dedicated Massachusetts Bay Transportation Authority stop.
MedTouch offices are also located in Cedar Rapids, Iowa; Louisville, Kentucky; and Seattle, Washington.
About MedTouch
MedTouch is proud to be the online strategy and technology partner for the best brands in healthcare. Clients select us because our depth of experience brings clear vision to complex projects. With a dedicated healthcare team, a strong understanding of digital strategy and technical requirements, and demonstrated experience developing websites, MedTouch will help you discover potential and deliver results. MedTouch has four locations across the U.S. and was named to the Inc. 500 | 5000, an annual list of the fastest-growing private companies, in 2013, 2014 and 2015. http://www.medtouch.com