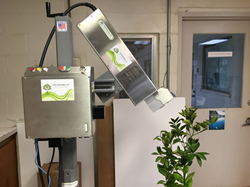 GPD Technologies has found a solution to eradicate HLB.
Peachtree City, Georgia (PRWEB) January 25, 2016
GPD Technologies ("GPD"), creator and manufacturer of an innovative new technology, has found a solution to eradicate Huanglongbing ("HLB"), or Citrus greening disease, and potentially many other plant diseases. Greg Drouillard, president of GPD and an expert in the field of laser research, has developed the first method of adapting light energy, or lasers, to facilitate and enhance the penetration of agrochemical substances into plants. This disease treatment breakthrough has never before been achieved and has the potential to be utilized in the field immediately. The method patented by GPD is described in the Botanical Society of America's EurekAlert dated January 13, 2016 http://www.eurekalert.org/pub_releases/2016-01/bsoa-wdl011316.php
A grant was given by the Citrus Research and Development Foundation to study the impact this new laser delivery system could have on the treatment of HLB in citrus trees. Results to date have been extremely positive and GPD is looking forward to delivering this technology to citrus growers quickly. GPD's system and field results are being evaluated by Dr. Ed Etxeberria of the University of Florida Institute of Food and Agricultural Science.
GPD's laser delivery system provides, for the first time, a pathway to deliver agrochemical substances into a plant without harming it. This highly efficient system can deliver antimicrobials, fungicides, pesticides, herbicides and fertilizers into plants, achieving uptake levels of 95%. The system uses precise control of emitted light to remove a small amount of the cutin layer from the leaf. This process has been designed never to penetrate the surface or "skin" of the leaf, and therefore does not damage or kill the leaf. Once the cutin layer is removed, antimicrobials are injected into the plant phloem, or vascular system, which then allows the antimicrobials to circulate throughout the plant and eliminate the infection. Due to the high uptake level, GPD's system is more environmentally friendly than alternative application methods such as spraying or absorption through soil, as it requires a lower volume of chemicals to be applied. This also represents a significant cost savings to growers. GPD's laser delivery system is pulled behind the same type of tractor that pulls farm equipment through a grove or field and can be operated by growers.
Plant pathogens pose a unique challenge to the plant industry. Failure to control pathogens can result in significant crop losses. HLB is a serious threat to citrus production around the world and has affected the citrus industry in the United States since its introduction in 2006. HLB has infected citrus trees in the United States, Brazil and China, where HLB originated, among others. Until now, the industry has been applying preventative treatments that have slowed the progress of the disease, but there has been no cure. GPD's technology has proven it can thoroughly and efficiently eradicate HLB, and GPD fully expects these results will be mirrored in the treatment of many other plant diseases.
GPD Technologies plans to make this technology available to the citrus industry soon. Greg Drouillard has spent over 20 years doing research in the citrus industry. Greg and GPD are confident that this technology will represent the end of HLB in the citrus industry, and hope this system will become a solution that is utilized throughout the agricultural industry to reduce environmental impact and improve crop production.