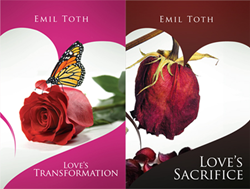 The four LOVE novels place emphasis on the amazing manifestation of love. I recalled the dream … I had forty years ago about a room filled with books having 'love' in the titles.
(PRWEB) February 03, 2016
In Love's Transformation, the first book in the "Love" series, we see Batu constantly angering the High Priest, who, along with his apprentice, are the antagonists haunting the heroine. The High Priest's desire to keep Batu—and all women—in their place is his personal mandate. Batu loses her husband and baby and is deemed worthless by her community and is to be banished from the village. Taja, the Healer, shares his spiritual philosophy providing her with the strength to face expulsion.
In Love's Sacrifice, the second book in the "Love" series, Kaathi assumes a prominent role that stands witness to the power of love in its spiritual essence and strength, not just its physical manifestation. The High Priest encounters his own humanity, but Batu's problems are not resolved. The story takes yet another dramatic turn, involving Kaathi demonstrating her compassion and tremendous love.
The book series mirrors the deep cultural and religious prejudices present in some present-day countries that subject women to inhumane and life-threatening treatment. Despite large-scale awareness spurred by social media and globalization, these biases and prejudices still exist in our midst—and Batu's story shows us what they are and how strong, empowered women oppose and overcome them. Far from being preachy, Batu's story is written subtly, bringing an awareness of this "invisible" oppressive world into our mindset preoccupied with consumerism and material want. The "Love" book series elicits our empathy, not sympathy, as we read tomorrow's news about a mother, wife, or daughter subjected to cultural and religious oppression and brutality. Suddenly these women have faces: that of Batu's and Kaathi's.
A prolific self-published author, Toth has no difficulty using literary tools to shape the characters, juxtapose conflicts and resolutions, and build up suspense to hook his readers. That the struggle of ostracized women who live in a primitive culture is told with philosophical depth by a retired computer programmer analyst from South Bend, IN, provides an interesting background story to the book series.
Emil Toth, however, is no stranger to spiritual and dramatic stories, having authored six books in the genre. Likewise, he has been actively involved in spiritual support groups, yoga, and writing workshops as a facilitator, participant and resource person.
Title: "Love" series: Love's Transformation Author: Emil Toth
Title: "Love" series: Love's Sacrifice Author: Emil Toth
Genre: Drama, inspirational, spiritual
ISBN: 978-1-312-85585-4 (Love's Transformation); 978-1-312-98973-3 (Love's Sacrifice)
eISBN: 978-1-3128-5585-4 (Love's Transformation); 978-1-3129-8973-3 (Love's Sacrifice)
Pages: Love's Transformation: 339; Love's Sacrifice: 280 pp