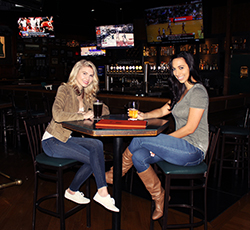 Public awareness is key to the diagnosis and treatment of obstructive sleep apnea. It is great to see that current and retired NFL players are helping to raise awareness of this public health issue - David Gergen
Phoenix AZ (PRWEB) January 22, 2016
Padre Murphy's has supported the sporting community in Phoenix for over twenty years. Padre Murphy's is a great spot to enjoy a beverage and a meal and on January 26 2016 you will be able to enjoy a presentation on sleep apnea by one of the nations leaders in the field. This event is presented open to the public and will be attended by NFL hero's past and present who have dedicated themselves to raising awareness of the long term health implications of untreated sleep apnea.
Location and time of the public awareness event and fundraiser will be 6:30-close, Padre Murphy's 4338 West Bell Road, Phoenix AZ 85308
"We will be holding the nation's largest ever public awareness event for snoring and sleep apnea. When deciding on a venue it was decided that the best location would be one that was a fixture of the community with a reputation for supporting local causes. Padre Murphy's is a sports oriented bar with a focus on good atmosphere and food and was clearly the best choice by any measure," said Gergen.
The Arizona Cardinals are also supporters. Current and retired NFL players will be on site highlighting the devastating impact that undiagnosed obstructive sleep apnea can have on a person's health. NFL greats that will be in attendance include Larry Fitzgerald, Roy Green, Eric Dickerson, Seth Joyner and Marcus Allen to name just a few.
There will also be clinicians from the American Sleep and Breathing Academy to answer questions about sleep disorders and to help people who already have a sleep diagnosis achieve consistent care using their PAP machine or Oral Appliance for snoring and sleep apnea.
For additional information contact David Gergen 602-478-9713
Related Links
http://www.proplayersleep.org/sleep-apnea-awareness-event/
http://www.padremurphy.com
http://www.phxpolicefoundation.org/
ABOUT PRO PLAYER HEALTH ALLIANCE
Pro Player Health Alliance is an organization dedicated to helping former NFL players, providing testing and treatment options for those who suffer from sleep apnea. Since launching in April 2012, over 260 players have been treated through PPHA's "Tackle Sleep Apnea" campaign. The PPHA works closely with the American Sleep and Breathing Academy and is dedicated to improving health and wellness through sleep education and advocacy.
ABOUT PADRE MURPHY'S
Padre Murphy's Sports Grill is Phoenix AZ's home for fresh food, off track betting and live entertainment. With 56 craft beers on tap, Padre's is Phoenix's premier sports bar. MSN listed Padre Murphy's as one of the top 10 sports bars in All of America!
ABOUT DAVID GERGEN
David Gergen, CDT and President of Pro Player Health Alliance, has been a nationally respected dental lab technician for over 25 years. He received the award for "The Finest Orthodontic Technician in the Country" given by Columbus Dental in 1986. He also has been appointed Executive Director of the American Sleep and Breathing Academy Dental Division, a national interdisciplinary academy dedicated to sleep training and education with over 60,000 members. David rolled out of bed on December 4, 1982 and had his career "ah ha" moment. He knew he was going to be an orthodontic technician and he knew he was going to help people all over the country to help treat their sleep disorders in partnership with their dentists. He has worked for some of the pioneers in the orthodontic and sleep dentistry fields. He was the personal technician for the likes of Dr. Robert Ricketts, Dr. Ronald Roth, Dr. A. Paul Serrano, Dr. Clark Jones, Dr. Harold Gelb, Dr. Joseph R. Cohen, Dr. Rodney Willey, Dr. Allan Bernstein, and Dr. Thien Pham. One of his proudest achievements is receiving The National Leadership award for Arizona Small Businessman of the Year in 2004.