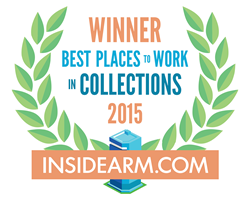 Atlanta, GA (PRWEB) January 26, 2016
Best Places to Work in Collections is a two-part survey program that includes the employer's workplace policies, practices, philosophy, systems and demographics. Then, employees complete a survey that measures their overall experience.
Capio is the trusted partner to more than 300 hospitals and hospital systems because they understand healthcare providers and their patients. As specialists in buying aged healthcare debt, Capio is the largest purchaser of such portfolios in the United States.
Employees of Capio truly love their job and a few reiterate the fact that Capio Partners is deserving of this awesome recognition. Bryana Watson, Senior Training Manager, explains that, "Capio is a great model for other companies to follow by. We have great people, we have a great environment and we do a great service for everyone involved, starting with our clients all the way down to the consumers we speak to."
Jenny deHoyos, Director of Support Services, describes Capio Partners as a "truly exceptional employer because of the time and resources they are willing to invest in helping their employees achieve their maximum potential. They don't just say they care about their employees, they show it!"
"I feel that Capio is the best place to work due to our undying dedication to the betterment of the staff as a whole," adds Tanika Taylor, Assistant Director of Operations. "We embody perseverance and inspire greatness."
President of Capio, Bob Hodges, comments, "Being recognized is a testament to the people and culture within our company. We continue to look for ways to improve our processes for the company and our clients. We try to make our people the driving force behind any changes we make, because without people that believe in our initiatives, as well as servicing our clients and their patients, we cannot continue to succeed. I think this ranking, based on the feedback from our people, shows that we are headed the right direction."
To view additional testimonies from clients and patients alike, click here.
Capio Partners provides revenue cycle solutions for the nation's leading healthcare providers and hospital systems, they focus on providing financial assistance, advocacy and education for patients, and along with that Capio is a Complaintless Collections™ model. Who could ask for more?
Please check us out at http://www.capiopartners.com/.