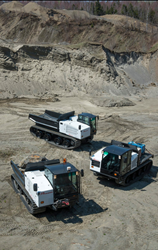 Curt Mornan, Senior Director of Multi Machine Inc,"We are honored to represent Prinoth, one of the industry leaders in the Track Utility Vehicle marketplace. There's nowhere these machines can't go, and no challenge they can't tackle."
(PRWEB) January 24, 2016
Multi Machine Inc. is pleased to announce a new line of tracked utility vehicles for 2016. Whether your jobsite is covered in mud, gravel or snow, the new line of PRINOTH tracked utility vehicles are the reliable choice for extreme use in extreme environments. Thanks to their huge payload, these vehicles can be equipped with a multitude of specialized attachments. PRINOTH's tracked utility vehicles exert very low pressure on the ground and go places where traditional wheeled vehicles would be rendered stuck and immobile.
"Premium Carriers with a History to Match"…
PRINOTH has been synonymous with vehicles of the highest quality from the very beginning. With over half a century of tracked vehicle experience, PRINOTH continues to develop and refine the sprocket-track system invented by Bombardier in 1935. It's just one of the many reasons why their line of tracked vehicles are regarded as the best in the world, and why you'll find a PRINOTH wherever there's hard work to be done.
PRINOTH crawler carriers access difficult worksites without damaging the terrain thanks to their low ground pressure design. Their superior stability and floatability are valuable assets when operating in challenging work environments such as mining, construction, oil, gas, and electric utility. These crawler carriers generate their own electrical power, allowing equipment to be powered on site without a secondary generator. While PRINOTH carriers may tread soft, they also carry the biggest payloads – up to an incredible 46,000 lbs. worth of equipment, materials and supplies.
All-terrain and all-weather operation, combined with exceptional performance and implement versatility, ensure the toughest jobs get done right. Call 866-866-8584 or email curt(at)multimachine(dot)us to for more information.