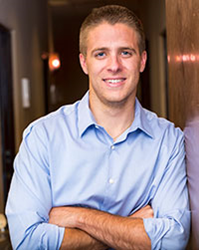 Santa Fe, NM (PRWEB) January 22, 2016
Patients with crooked teeth can now receive Invisalign® in Santa Fe, NM from Dr. Brandon Cera. Patients are invited to take advantage of Dr. Cera's "New Year, New Smile" campaign by improving their smiles with the help of invisible braces.
Many people are unhappy with the way their teeth look, and Dr. Cera seeks to improve patient confidence and satisfaction through Invisalign® in Santa Fe, NM. Invisible braces are nearly impossible to see from a distance, and they allow patients to straighten their teeth without wearing noticeable corrective appliances. In addition to their discreet appearance, invisible corrective braces are also more comfortable than traditional braces, which require brackets and wires to be attached to the teeth. Those who receive Invisalign® straightening devices need not worry about cutting their lips or cheeks on their corrective appliances, since the surface of an Invisalign® appliance is completely smooth.
In addition to crooked teeth, Invisalign® is also commonly used to treat overbite and underbite problems as well as crowding, crossbite and spacing issues. The device can be easily removed at any time, which makes it easy for the wearer to enjoy regular foods and to thoroughly clean their teeth for optimal dental health. Although traditional braces are an effective solution for many people, they cannot be removed and make it more difficult for patients to maintain their oral health. In some cases, traditional braces can also cause slight variations in tooth color due to the brackets that oftentimes remain on the teeth for a year or more.
Individuals who are interested in receiving Invisalign® in Santa Fe, NM, are invited to schedule an appointment with Dr. Cera's office and find out how they can improve their smiles in the New Year. Not all patients are good candidates for invisible braces, so it is important to receive a thorough examination and consultation from Dr. Cera before receiving treatment.
About the Doctor
Dr. Brandon Cera is a general dentist offering personalized dental care to patients in Santa Fe, New Mexico. Dr. Cera graduated from Ohio State University with a Bachelors in Biology as well as a Dental Surgery Degree. Dr. Cera prides himself in providing advanced technology and dedicated oral health care to ensure his patients receive the best dental care possible. To learn more about Dr. Cera and the services he offers, visit his website at http://www.northsidedentalclinic.com or call (505) 989-8749 to schedule an appointment.