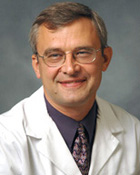 "SBRT offers a safe option that can stand on its own as a treatment or serve as an effective bridge to surgical removal of the tumor or a liver transplant." - Alexander Kirichenko, MD
PITTSBURGH, Pa (PRWEB) January 22, 2016
Stereotactic body radiotherapy (SBRT) is an effective new treatment option for patients with inoperable liver cancer, as well as those eligible for surgery or a liver transplant, according to research presented by Allegheny Health Network at this week's Gastrointestinal Cancer Symposium of the American Society of Clinical Oncology.
SBRT safely and effectively controlled the growth of 96 percent of primary tumors and 94 percent of metastases over a two-year period, according to research led by Alexander Kirichenko, MD, Allegheny Health Network radiation oncologist.
AHN is a pioneer in the use of SBRT as a bridge to liver transplant, and is one of a few centers nationwide using this method. Earlier AHN research showed that SBRT can hold off a tumor's growth, giving transplant-eligible patients more time to wait for a new liver to become available.
The new research being presented this week in San Francisco shows SBRT is effective not only as a bridge to liver transplant but as a stand-alone treatment for inoperable tumors, and in combination with surgery to remove the tumor. The research is also published in the January 2016 edition of HBP, the Journal of the American Hepato-Pancreato-Biliary Association.
"Surgery remains the gold standard for treating liver cancer, but unfortunately more than 80 percent of patients with liver cancer are not eligible for surgery," Dr. Kirichenko said. "SBRT offers these patients a safe option that can stand on its own as a treatment or serve as an effective bridge to surgical removal of the tumor or a liver transplant."
"For patients with liver dysfunction our radiation treatment planning is unique in a way that we are able to identify best functional liver parenchymal cells (which serve important functions such as protein synthesis and detoxification) and avoid them during SBRT delivery," Dr. Kirichenko added. "We believe this increases safety of radiation therapy allowing us to treat patients with advanced hepatic cirrhosis".
Eighty-seven patients with primary liver tumors or isolated metastases underwent four to six SBRT treatments. Two-year overall survival was 82 percent for those with primary tumors and 64 percent for those with metastases. Fourteen of the patients went on to have liver transplants and eight had surgery to remove previously inoperable tumors. None of the patients developed Radiation Induced Liver Disease, a complication of radiation treatment that can lead to liver failure.
Commonly used to treat a variety of cancers, SBRT involves using advanced diagnostic images and computer mapping to accurately target tumors in high doses over a shorter period of time than conventional radiation therapy. Whereas traditional radiation requires on average over seven weeks of treatment, SBRT allows for the delivery of an even higher radiation dose over the course of four to five days with significantly better tumor control and less side effects.
"This research exemplifies AHN's commitment to innovative, personalized cancer care," said David Parda, MD. "We are proud to have pioneered the use of SBRT for patients who would otherwise have very limited treatment options."
AHN physicians and others joining Dr. Kirichenko in the research include Olivier Gayou, PhD; Dr. Parda; Vijay Kudithipudi, MD; Kusum Tom, MD; Akhtar Khan, MD; Peter Abrams, MD; Molly Szramowski, PA; Jose Oliva, MD; Dulabh Monga, MD; Moses Raj, MD, and Ngoc Thai, MD.
According to Comparion Medical Analytics, 2016 National Quality Rating Database, AHN is ranked in the top 10 percent nationally for cancer care quality.
About Allegheny Health Network
Allegheny Health Network is a western Pennsylvania-based integrated healthcare system that serves patients from across a five state region that includes Pennsylvania, Ohio, West Virginia, Maryland and New York. The Network's Cancer Institute offers a complete spectrum of oncology care, including access to state-of-the-art technologies and new therapies being explored in clinical cancer trials. The Network's radiation oncology program is the largest in the country and the only one in Pittsburgh dually accredited by both the American Society for Radiation Oncology and the American College of Radiology. AHN also has a formal affiliation with the Sidney Kimmel Comprehensive Cancer Center at Johns Hopkins, one of the nation's 41 comprehensive cancer centers designated by the National Cancer Institute, for research, medical education and clinical services.
To schedule an appointment with an AHN oncologist, please call 412.DOCTORS or visit http://www.ahn.org/find-a-doctor.