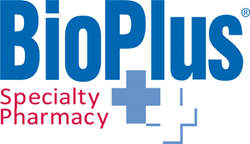 Altamonte Springs, FL (PRWEB) January 22, 2016
BioPlus Specialty Pharmacy (BioPlus), one of the nation's leading innovative specialty pharmacies, announces today that it is one of the specialty pharmacies with access to the limited distribution drug Cosentyx® (secukinumab) manufactured by Novartis Pharmaceuticals. Cosentyx is now approved by the U.S. Food and Drug Administration (FDA) for two new indications in adults: active ankylosing spondylitis and active psoriatic arthritis.
Psoriatic arthritis and ankylosing spondylitis are both associated with painful inflammation of joints and the spine; without treatment patients can suffer permanent joint or bone damage. "Cosentyx was previously approved for treating moderate-to-severe plaque psoriasis, but now that the FDA has given the green light for ankylosing spondylitits and psoriatic arthritis, we will be able to fill prescriptions of this medication to help even more patients in need of treatment for their difficult conditions," shares Sharon Ferrer, VP of Pharma Relations at BioPlus. "BioPlus looks forward to being able to offer and provide excellent care and service to patients prescribed Cosentyx," adds Ferrer.
Cosentyx was first approved by the FDA in January 2015 for the treatment of moderate-to-severe plaque psoriasis in adults. Cosentyx is the first and only interleukin-17A (IL-17A) inhibitor now approved for adults with ankylosing spondylititis and psoriatic arthritis. This FDA approval was granted after a series of Phase III studies with more than 1,500 patients demonstrated both efficacy and safety of this medication.
About BioPlus Specialty Pharmacy
BioPlus Specialty Pharmacy is the first specialty pharmacy to introduce a two-hour turnaround from referral to patient acceptance. BioPlus... Where healing begins in 2 hours. Our company celebrates 26 years of innovative excellence in specialty pharmacy, working closely with payers and the pharmaceutical industry, as well as with prescribers to get prompt treatment for patients, and directly supporting our patients nationwide to achieve optimal health outcomes. Our proprietary web tool Tap App, connects prescribers to the pharmacy by bringing the pharmacy chart into the doctor's office with real-time specialty pharmacy information and treatment monitoring.
BioPlus provides a complete range of specialty services, including for hepatitis C, multiple sclerosis, cancer, bleeding disorders, and other complex, chronic conditions. BioPlus, a privately-held, pharmacist-owned company based in Altamonte Springs, Florida, is accredited by URAC, VIPPS, and the Accreditation Commission for Health Care (ACHC).
For information: http://www.bioplusrx.com or
Contact: info(at)bioplusrx(dot)com
Phone: 1-888-292-0744
###​