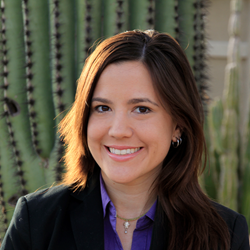 She is uniquely suited to envision and execute Gilbane's strategic vision of BIM-centric operational excellence.
Phoenix, AZ (PRWEB) January 25, 2016
Gilbane Building Company, a leader in construction services, is excited to announce the promotion of Alexis Carver to Senior VDC (Virtual Design & Construction) Manager. Carver, who has been in the industry for more than 8 years, joined Gilbane in 2012. Her extensive hands-on expertise has served her in leading efforts to bring closer the virtual and physical construction worlds.
Based in Arizona, she will lead the VDC team with a focus on BIM planning efforts with owners, design professionals, and construction managers. Recently, Alexis has exceptionally managed various critical areas of responsibility, including workload and resource management; business development and project proposal approvals; as well as having lead responsibility on several BIM efforts for projects all over the country.
"When considering Alexis' professional design credentials and her hands-on construction experience, she is uniquely suited to envision and execute Gilbane's strategic vision of BIM-centric operational excellence", says Christopher Barry, Vice President, Support Operations Manager for Gilbane, "I'm thrilled for her willingness to accept new challenges and excited to see her department grow in competence and capability."
Carver earned a Bachelor of Science in Architecture from University of Arizona. Alexis received both her NCARB and State of Arizona registered architect license in 2014, and currently encourages architects to become involved in professional practice as 2016 co-chair of the AIA AZ membership committee. Alexis also participates in industry events and focuses on professional certifications to stay current with industry trends. Autodesk University, BIM Forum, and the American Institute of Architects provide opportunities to collaborate with other architecture and construction professionals and brainstorm solutions to industry challenges.
About Gilbane Building Company
Gilbane provides a full slate of construction and facilities-related services – from pre-construction planning and integrated consulting capabilities to comprehensive construction management, close-out and facility management services – for clients across various markets. Founded in 1873 and still a privately held, family-owned company, Gilbane has more than 50 office locations around the world.