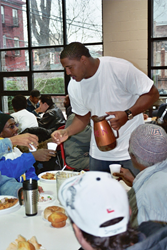 Serving at Eva's allows our employees to connect with the community that they work in while providing a necessary service to those less fortunate.
Paterson, New Jersey (PRWEB) January 25, 2016
On January 26th Eva's Village, New Jersey's most comprehensive anti-poverty organization will welcome a volunteer team from Machinery Services Corp., a local Paterson business owned by Rich Taylor, to serve the noon meal in its Community Kitchen program. The Taylors have proudly operated their successful business in Paterson, NJ since 1978 and have always believed in giving back to the community. "Machinery Services Corp. and the Taylor family have been community partners with Eva's Village for many years and look forward to our day of service helping those most in need," stated Mr. Taylor. "Serving at Eva's allows our employees to connect with the community that they work in while providing a necessary service to those less fortunate."
Many corporations have corporate giving programs, donating some of their profits or resources to charity. The Fund-A-Meal (FAM) program at Eva's Village is a corporate sponsorship opportunity, which assists the organization in feeding the men, women, and children in Eva's Community Kitchen and sheltering programs for one day. Corporate sponsorships allow sponsors to directly touch the organization's mission and advance its goals to combat hunger and homelessness. In addition to sponsoring the kitchen program, corporate volunteers serve the noon meal on the day of their sponsorship.
In return, Fund-A-Meal sponsors are entitled to receive various benefits including, but not limited to, signage in Eva's Community Kitchen, visibility on Eva's social network sites, honorable mention in the organization's quarterly news publication and press exposure. "Many businesses are looking for ways to truly give back to the communities they serve," stated Marie Reger. "Our FAM program gives them the opportunity to get their brand recognized in a positive way, while helping hundreds of impoverished individuals receive the care they need for at least one day. FAM is one of those great opportunities that corporations can 'put their signature on' that will reach thousands and formidably demonstrate their commitment to being a socially responsible business!"
For more information on the Fund-A-Meal Program, contact Jason Patterson, Government & Community Relations Specialist at (973) 523-6220 Ext. 226 or Jason(dot)Patterson(at)evasvillage(dot)org.
About Eva's Village
Founded by Msgr. Vincent E. Puma in 1982 as a response to the poor and homeless in Paterson, NJ, Eva's Village (http://www.evasvillage.org) is a non-profit comprehensive social service organization with a mission to feed the hungry, shelter the homeless, treat the addicted and provide free medical and dental care to the poor. Through almost three decades of service, Eva's Village has established a unique record in facing community challenges and changing the lives of the hungry, homeless and addicted. It has grown from a simple soup kitchen to become the most respected anti-poverty program in New Jersey. Eva's Village now includes twenty integrated programs.
About Rapid Pump & Meter Service Co., Inc. and Machinery Services Corp.
Machinery Services Corp. and Rapid Pump & Meter Service Co., Inc. are uniquely qualified and diverse service and construction companies providing a wide range of electrical/electronic and mechanical services to the industrial, commercial, municipal and transportation industries. With a long history in Paterson, the companies provide 24 hour service, 7 days a week. Their motto is - "The Answer is Yes….What's the Question?" Many employees have spent decades of service with their companies, and their depth of expertise ensures positive results in all aspects of their projects. Whether it is a simple repair or a complex construction project, their people are committed to 100% customer satisfaction.
For more information about Machinery Services Corp., call 973.345.5600, go to http://www.servicer.com/ or write to: Machinery Services Corp., 285 Straight Street, Paterson, NJ, 07509