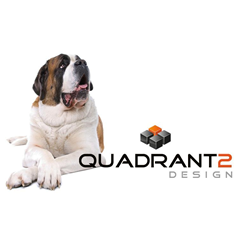 With Aimee's experience, skills, and connections within the exhibition industry, she will be a great asset to our team
Poole, Dorset (PRWEB UK) 24 January 2016
Poole-based exhibition stand contractors, Quadrant2Design, have welcomed a new member to their ever-growing team. Aimee Holder joins Quadrant2Design's in-house project managers, and brings with her a wealth of experience and passion for the industry.
An Event Management graduate of Bournemouth University, Aimee has previously working in the exhibition organiser industry, however she has now come to the other side, and will be assisting clients through their exhibition stand, from design, to build, and even through to after-show support.
Organised, highly knowledgeable on all things exhibitions, and a lover of lists, Aimee is looking forward to seeing the other half of the events industry, and working directly with those exhibiting at the shows.
Quadrant2Design's Managing Director, Alan Jenkins, is excited to welcome Aimee on board. "With Aimee's experience, skills, and connections within the exhibition industry, she will be a great asset to our team. I look forward to working with her and seeing how she will use her knowledge to improve our clients' experiences."
To work with Aimee, or for your complimentary design proposal from Quadrant2Design, contact designteam(at)quadrant2design.com or call 01202 723 500.
About Quadrant2Design
Quadrant2Design is the UK's only supplier of the Prestige Exhibition System. Portable, Modular and easy to self-build, the Prestige Exhibition System requires no tools or special skills. Catering for all sizes of exhibition stands, the Prestige Exhibition System, provides seamless effect, high-quality graphics that have a custom feel, whilst being reusable and cost effective. With an array of possibilities, including lit showcases, mounted LCD TV's and high-level branding, Quadrant2Design can create the perfect exhibition stand for any budget.