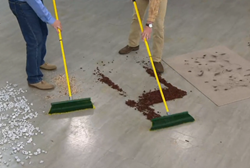 "Love the technology and thought put behind this product. It is NOT just a broom... well done!" – Karen Martin, Dallas, Texas
Kansas City, Missouri (PRWEB) January 26, 2016
The new Renegade Broom by The Handy Camel is modernizing the way people are cleaning up messes. It debuted to the world on QVC on Tuesday, January 19, 2016. The design of the broom hasn't changed in years – until now. This German produced brush is unlike traditional brooms due to the curvature of the bristles, and that is what makes the Renegade stand out from the competition. With each changing season, the Renegade is up to the task: snow in Winter, mulch in the Spring, and leaves in the Fall.
The Renegade Broom was shown on a seven-minute segment on QVC and gained substantial recognition. It sold 700 brooms in a test run on Tuesday. It is a great start for this revolutionary broom. It withheld pulling a five pound weight with only two fingers. If it can pull that, it can clean up anything.
When launched on the popular platform, Indiegogo, on September, 17, 2015, the Renegade Broom was funded 333%. The original goal was $7,000 and ended up selling over $25,000. That skyrocketing number, proved the popularity because the broom sold out in one month after the launch date. The Renegade Broom is not slowing down any time soon and that is why it was launched on the most popular shopping network, QVC.
The Renegade Broom has been seen in Real Simple, Equus, Family Circle, and The Country Today as well. The new broom offers a different kind of cleaning experience designed to get clutter cleaned up efficiently and effectively.
About The Handy Camel
The Handy Camel launched the Renegade Broom among other useful and resourceful products. They bring to market beautifully designed products that provide outstanding user experiences to make chores less of a chore.