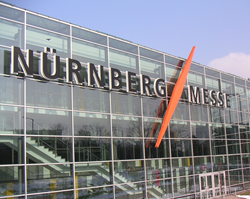 (PRWEB UK) 22 January 2016
With a packed itinerary and a great selection of shows taking place across German next week, Quadrant2Design has a lot to get ready for.
Next week, commencing the 25th January 2016, sees both Spielwarenmess and Paperworld opening, in Nuremberg and Frankfurt respectively.
Quadrant2Design will be travelling to the country, and installing stands at both venues, for their clients, including long-time clients and re-users of the system for events all around the world, HK Wentworth, and Lottie.
Quadrant2Design is the exclusive UK supplier of the Prestige Event System. Portable and modular in design, a Prestige Exhibition Stand allows exhibitors to incorporate custom-build features, and a custom-build feel into a reusable, and economical design. With integrated showcases, screens, and technology, alongside high-quality, seamless effect graphics, and all in a lightweight system that can be very easily transported in a small space, the Prestige Event System lends itself perfectly to exhibitions and events across the globe.
The team will be sending out two of their skilled installers to Germany, to install the stands, across a total three day period.
For more information about European exhibitions, or for a complimentary design consultation from Quadrant2Design, contact designteam(at)quadrant2design(dot)com or call 01202 723 500.
About Quadrant2Design
Quadrant2Design is the UK's only supplier of the Prestige Exhibition System. Portable, Modular and easy to self-build, the Prestige Exhibition System requires no tools or special skills. Catering for all sizes of exhibition stands, the Prestige Exhibition System, provides seamless effect, high-quality graphics that have a custom feel, whilst being reusable and cost effective. With an array of possibilities, including lit showcases, mounted LCD TV's and high-level branding, Quadrant2Design can create the perfect exhibition stand for any budget.