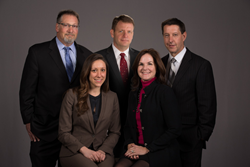 Columbia, Maryland (PRWEB) January 27, 2016
Portner & Shure has been conferred the Litigator Award by the Trial Lawyers Board of Regents for 2015 based on the firm's million and multi-million dollar verdicts and settlements attained. This is the nation's highest award in trial law that honors a firm's extraordinary achievement in the area of personal injury. The Litigator Award only recognizes the best trial attorneys in America and measure what matters most: performance.
Award recipients are chosen after an extensive selection process. A firm's experience, skill, and ability within specific areas of expertise are evaluated in order to select the top 1% of trial lawyers. When prospective clients are looking for an attorney to help them with their auto accident case, they can now make a more informed decision. Clients know that a law firm that has been a recipient of a Litigator Award has been through a highly competitive and extensive selection process. This process relies solely on actual verdict and settlement dollar outcome data. In order to even be considered, nominees must have at least one verified verdict or settlement of at least $1 million within the last five years. Unlike client testimonials and peer reviews, which can easily be inflated, verdict and settlement numbers cannot.
Portner & Shure is proud to be honored with the Litigator Award for its outstanding performance in 2015. While awards like these are very humbling, Portner & Shure still continues to put its clients at the forefront of everything. The attorneys and paralegals of Portner & Shure do everything in their power to assure that clients are completely satisfied with their result and the service we provided them.