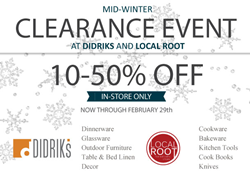 There is always something worthwhile at Didriks
Cambridge MA (PRWEB) January 24, 2016
Didriks, seller of outdoor furniture and tableware, and Local Root, the kitchen store will be offering discounts on items in stock at all store locations. From February 1st through February 29th, in-store shoppers can expect to find discounts on all of their favorite brands carried by Didriks and Local Root.
Discounts range from 10% up to 50% for select floor model items. This in-store sale event is valid only for items in stock. The sale does not apply to online purchases or special orders.
About Didriks
Since 2004, Didriks, awarded Best of Boston: Tabletop Accessories 2016, has helped customers create inspired home environments, showcasing fine outdoor furniture, tableware and home decor products sourced from the United States and Europe. Online at Didriks.com.
About Local Root
Local Root is one of the premier kitchen stores in the Greater Boston area, awarded Best of Boston: Kitchen Supplies 2013 and 2014 by Boston Magazine. Local Root showcases a diverse range of cooking tools, kitchen knives, cookware and bakeware for the chef and home cook alike. Local Root also provides professional in-house knife sharpening. Online at LocalRoot.com.
Didriks, at 190 Concord Ave, and Local Root, at 221 Concord Ave, are both located on Observatory Hill in Cambridge, MA. They share a second location at The Mill at Newton Lower Falls, 2284 Washington St. Newton Lower Falls, MA.