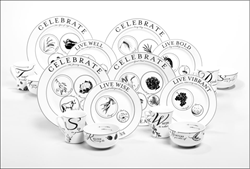 Boulder, CO (PRWEB) January 26, 2016
In an effort to make healthy eating an enjoyable, pleasurable, and even a stylish experience, leading lifestyle brand, Livliga, is proud to introduce its newest dinnerware line, Celebrate: The Poetry of Life. Based on the company's VisualQ's philosophy, the 16-piece set will help redefine the portion control category by taking the guesswork out of "right-sized" eating, while incorporating an elegant and poetic flare.
The Celebrate collection combines inspirational poetry, stylish black and white designs, with tried and tested science to provide a product that is unmatched in quality, aesthetic and function. With beautifully designed tableware reminiscent of a French bistro, each dish features etched drawings and illustrations of healthy foods and phrases that motivate users to "celebrate" a healthy lifestyle. Such words as "celebrate good food," "live bold" and "sip in gratitude" are inscribed onto porcelain plates, bowl and mugs. With no two dishes alike, users are able to mix and match the set in ways that suit their needs and moods.
"It's easy to feel denied and deprived when making healthy lifestyle changes," said Founder and CEO of Livliga, Sheila Kemper Dietrich. "I wanted to develop a product line that helps us all find the joy in eating and living well. Livliga has created dinnerware that speaks directly to our emotions and senses with motivational phrases and beautiful designs, while subconsciously guiding us to improve our eating habits by positively affecting our mood and sense of satisfaction. I am very proud to share our latest creation, Celebrate: The Poetry of Life."
Livliga believes that developing healthy eating habits can be a fulfilling and enjoyable experience, without having to sacrifice great tasting meals. As a result, the brand offers dinnerware, serveware and glassware that subtly guides users in eating well-balanced meals with appropriate serving sizes. With the help of its VisualQs philosophy, which states that our bodies and minds seek visual cues to help us determine how much food we consume in one sitting, Livliga products use strategic shapes and symbols to help users practice portion control, with ease, and feel fuller with right-sized portions. The Celebrate line, like all other Livliga products, uses the psychology of eating to promote healthier lifestyles. In addition, Celebrate is the only pattern that uses words to influence us while we eat, in an effort to evoke positive emotions and satisfaction with right-sized portions.
Jay Cardiello, Health Strategist, Celebrity Trainer and one of the Stars on ABC's My Diet is Better Than Yours, uses a similar philosophy to help people live healthier lifestyles. A supporter of portion control eating and an avid user of Livliga, Jay's Nutritional Pillar of Health doctrine states "Finding the right foods, knowing the proper portion sizes and utilizing the proper dinnerware are keys to success." With this in mind, Livliga is proud to launch its Celebrate collection, in conjunction with its full suite of patented portion control products for everyday use, to support people in their ongoing journey to live happier and healthier lives, nationwide.
The Celebrate line is sold in 16-piece sets for a four-person setting, and is available for $198.95. Livliga's complete product offering can be purchased at LivligaHome.com.
EDITOR'S NOTE: For more information about Livliga and to arrange to speak with a company spokesperson, please contact Nancy Trent or Pamela Wadler at 212-966-0024 or pam(at)trentandcompany.com.