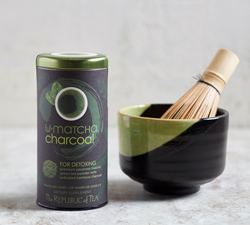 Novato, Calif. (PRWEB) January 25, 2016
The Republic of Tea, leading purveyor of premium teas and herbs, presents the latest innovation in matcha teas with the launch of its U-Matcha® Charcoal Tea. The tea's powerful cleansing combination of premium Japanese matcha green tea powder and activated bamboo charcoal can be used as part of a detox program by sipping two cups daily.
U-Matcha® Charcoal Tea's activated bamboo charcoal can help cleanse the system by binding to and removing toxins from our body. Charcoal is essentially flavorless, so the grassy, earthy flavor of premium matcha shines in this blend. U-Matcha® Charcoal Tea can be enjoyed hot or iced.
The Republic of Tea's U-Matcha® is unlike regular green tea; these tender, shade-grown leaves are ground to a fine powder. Instead of being steeped, U-Matcha® teas are blended into water and sipped (ground powder and all). This exceptional tea is abundant in nutrients and has the balanced flavors of what is referred to as umami (literally, "yummy" in Japanese). Each U-Matcha tea from The Republic of Tea is Gluten-Free certified and may also be used in cooking and baking. This enticing line of teas includes U-Matcha Natural, U-Matcha Ginger, U-Matcha Yuzu, U-Matcha Roasted Rice, and the new U-Matcha Charcoal and U-Matcha Chai Teas.
Each tin of U-Matcha® Charcoal contains 20+ servings of gluten-free and sugar-free tea powder. The full U-Matcha™ collection is now available for purchase nationwide for $18.50 at natural and specialty food stores, through the company website (http://www.REPUBLICofTEA.com), mail-order catalogue and by calling 800.298.4TEA (832).
###
About The Republic of Tea:
The Republic of Tea enriches people's lives through its premium teas, education and innovation, as it emphasizes a "Sip by Sip Rather Than Gulp by Gulp" lifestyle. Founded in 1992, The Republic of Tea sparked a specialty tea revolution. Today the brand offers an unequaled selection of the highest-quality teas, herbal blends, books and nature-inspired sip ware, available exclusively at specialty retailers throughout the U.S. Further, The Republic of Tea is mindful of how its actions impact the greater community and actively supports worthy organizations like Action Against Hunger, The Ethical Tea Partnership, The Prostate Cancer Foundation, Xerces Society and The Whole Planet Foundation. Certifications include Demeter USA Certified Biodynamic, Fair Trade certification, Gluten-Free certification, Non-GMO Project verification, OU Kosher certification, Rainforest Alliance certification and USDA Organic certification. For more information, please visit http://www.REPUBLICofTEA.com or call 1.800.298.4832. Follow The Republic of Tea on Twitter at twitter.com/republicoftea and Like us on Facebook at http://www.facebook.com/RepublicofTea.
Contact Information:
Claire Storrs, Minister of Enlightenment, claire(at)republicoftea.com
5 Hamilton Landing, Suite 100, Novato, CA 94949 ~ Tel 415.382.3400 ~ Fax 415.382.3401 ~ http://www.REPUBLICofTEA.com