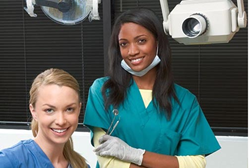 "Essentially we wanted to create a 'more bang for your buck' type of institution."
SANDY, Utah (PRWEB) January 24, 2016
Apex Dental, has always been staunch advocates for breakthrough dental care techniques and technology to improve their patient's experiences. With their new dental assisting school, they may have found the best way to improve the patient experience-- along with the Utah dental industry as a whole-- by training a new generation of professionals proficient in cutting-edge technology and schooled in Apex's special brand of compassionate dentistry.
"We created an institution where students can learn quality material within a short period of time, with the least number of lectures possible," said Krista Behrmann, our lead instructor at AIDC, "essentially we wanted to create a 'more bang for your buck' type of institution."
The Apex Institute of Dental Careers (AIDC) is a unique dental assisting program offering a rigorous, ten week course to properly prepare future dental assistants to enter Utah's competitive dental industry. Graduates who complete this course will leave with a strong working knowledge of the latest and greatest advances in dental care technology, along with the three main certifications employers look for in potential candidates including a dental assisting certification, a Utah state radiology certification, and a CPR certification.
Classes at AIDC will be taught chair-side in a "real world" setting with few, if any, traditional lectures. All instruments and books are included in the tuition cost.
The qualified instructors chosen to teach at AIDC have years of experience in the dental field and are eager to share their experience with others. "Our instructors are excited to teach those that are willing to learn in a fast-paced and energetic environment," said Behrmann.
If you or someone you know are interested in pursuing a career in dentistry, enroll online at apexfamilydental.com/school or contact Krista Behrmann at kristab(at)apexfamilydental(dot)com. Classes will be held in Sandy, Utah, at our new flagship office at 641 W 9000 S. The next semester starts 4/9/16. Don't miss out on the opportunity to become a dental assistant.