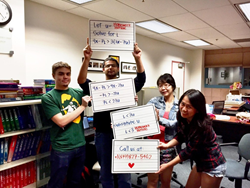 "My tutor was very clear and clarified all of my questions. She didn't give me the answer—she worked with me through the problem. I feel much more confident in math now."
Claremont, Calif. (PRWEB) January 22, 2016
Harvey Mudd College's Homework Hotline celebrates its sixth birthday on Monday, February 1. Despite its relative youth, the free service that provides over-the-phone tutoring in math and science to callers in grades 4-12 soon will also celebrate helping its 20,000th caller.
"I love talking to students, hearing what they're working on, and helping them through difficult questions," said Alex Rich, a Homework Hotline tutor for the past four years.
Nearly 50 tutors staff the Homework Hotline's 11 phone lines, answering questions on everything from Common Core mathematics to AP calculus and chemistry. All of the tutors are students from Harvey Mudd College, ranked the No. 1 undergraduate engineering school in the nation by U.S. News & World Report in 2015.
"My tutor was very clear and clarified all of my questions," said one caller. "She didn't give me the answer—she worked with me through the problem. I feel much more confident in math now."
The free service began in 2010, modeled after a similar program at Rose-Hulman Institute of Technology in Terra Haute, Indiana. Since its founding, tutors have taken more than 19,000 calls, focusing on STEM subjects (science, technology, mathematics and engineering).
"The hotline is a great opportunity for students to receive help in a convenient and easy way," said Natasha Allen, a three-year veteran of the Homework Hotline. "I think that is incredibly important because I know how discouraging it can be if help is difficult to access, and I want students to be excited to learn."
Most calls originate within the greater Los Angeles region, although the Homework Hotline has taken calls from more than 500 schools in 37 states during the last academic year. In recent years, the Homework Hotline expanded its services to include math and science support in four languages: English, Spanish, Tagalog and Mandarin Chinese.
The Homework Hotline typically runs from September through May and operates Sunday through Thursday from 6 to 9 p.m. PST. Tutors may be reached during operating hours by dialing toll-free 1-877-827-5462.
Contact:
Brian Gray
Homework Hotline Coordinator, Harvey Mudd College
bgray(at)hmc(dot)edu
301 Platt Blvd
Claremont, CA 91711
Ph: 909.607.4015