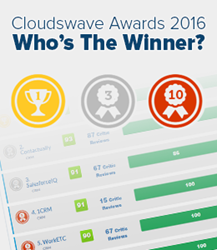 The marketplace for business applications is crowded. More software are being released, making it difficult to choose the right one. With our unbiased ranking of the top 10 best project management solutions, we aim to help businesses and individuals alike
Montreal, Quebec. (PRWEB) January 26, 2016
The seasonal rankings of the 10 best project management software released by Cloudswave, a business application marketplace, rank the best products to help businesses with managing their various projects. Paymo was named the leader of the rankings as it received a strong customer satisfaction score with a large market presence. The second and third spots were secured by Jira and Planbox, respectively.
The ranking is based on the Cloudswave Score, a weighted average score that captures the essence of multiple critic reviews into one number. It takes into account various metrics, such as the date of the review, quality of the review source, as well as the total number of reviews. It's "Metacritic's Metascore" for Business Software. The ranking aims to help businesses of all sizes navigate the challenging landscape of choosing accounting software.
According to Cloudswave's CEO and Cofounder Reda Sedrati, "Project management software is specifically designed to coordinate efforts between members of a team as well as impose order on the projects they are managing. The core features they offer allow for efficient organization and assignments of different tasks, not to mention higher-level visualization of project processes and timelines. The top three applications in these rankings provide just that [and a lot more!] which others haven't been able to bring to the table yet!"
Paymo, a solution that helps companies deliver projects on time and within budget, achieved a commendable score of 93. It received 80 critic reviews, all of which were favorable. Jira, an issue and project tracking application, received 220 critic reviews. 92% of them were favorable. Hence, it missed out on the top spot by just a point and stood second with a score of 92. A flexible, easy and simple project management solution, Planbox, received 61 critic reviews, all positive, for a score of 91.
"The marketplace for business applications is crowded. More software are being released, making it difficult to choose the right one. With our unbiased ranking of the top 10 best project management solutions, we aim to help businesses and individuals alike when it comes to choosing project management software that fits their needs as well as budget," concluded Reda Sedrati.
Along with rankings for the Project Management category, Cloudswave has also released its updated rankings showcasing the top 10 business applications in the Accounting, CRM, Billing and Invoicing, SEO & SEM, as well as other categories. For those who are interested, please visit Cloudswave's website for more information or send an email to yasmina@cloudswave.com
About Cloudswave
Founded in 2012, Cloudswave is a business software directory that uses the Cloudswave Score as a ranking factor to determine the best software in different categories. Initially, the website was dedicated to offering attractive software deals, but now helps businesses make educated software selections. Headquartered in Montreal, Canada, Cloudswave's growing team members are all highly committed and dedicated to building a reliable platform that helps organizations and individuals find the truth in data.