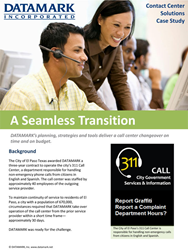 El Paso, Texas (PRWEB) January 23, 2016
The successful transition of an outsourced call center is the focus of a new case study published by DATAMARK, Inc., a leading provider of business process solutions, including contact center services.
In August 2015, after a competitive bidding process, DATAMARK was selected by the City of El Paso to staff and manage the city's 311 Customer Service Call Center, responsible for handling non-emergency requests from citizens.
DATAMARK had a window of approximately 30 days to take over operation of the 40-seat call center from the city's prior vendor.
The case study outlines the steps DATAMARK took to ensure a successful transition, including:
•The rebadging of supervisors and staff to retain experienced subject matter experts and agents, helping maintain continuity of service and high quality of customer care.
•Proactively seeking opportunities to improve working conditions and employee satisfaction.
•Documenting and mapping process workflows to identify ways to improve efficiency.
•Creating an easy-to-understand dashboard of metrics and key performance indicators to share with city managers overseeing call center operations.
The case study, "A Seamless Transition," is available for complimentary download at this link:
http://info.datamark.net/A-Seamless-Transition.html
About DATAMARK
DATAMARK, Inc. is a leading business process outsourcing company specializing in high-volume digital mailroom management, document processing/document management, contact center services and process improvement consulting for Fortune 500 companies and other large enterprises.
Headquartered in El Paso, Texas, DATAMARK employs nearly 2,200 people in its U.S., Mexico and India facilities. For more information, visit http://www.datamark.net. Follow contact center industry news and trends at DATAMARK's Call Center Insights blog at http://www.datamark.net/call-centers/blog.