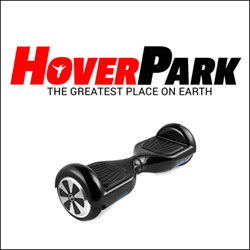 We are incredibly excited to offer people a safe place to learn how to hover, as well as a challenging place for experienced hoverers to come out and compete for glory.
West Dundee, IL (PRWEB) January 25, 2016
The first of a new concept, HoverPark is making its home in the new Lifezone360 sports complex/family fun center in West Dundee, IL. HoverPark will provide training for people who have never been on a hoverboard before in addition to a variety of exciting and challenging hover courses/sections, including skill-based, timed obstacle courses, and for advanced users, ramps areas and an open-hover area. HoverPark is providing a revolutionary, state-of-the-art harness-based training system that greatly reduces the risk of those nasty backwards falls, often experienced by first-timers, that continue to be posted daily online. A visit to HoverPark makes it safer to experience a hoverboard, provides access to top-of-the-line boards that do not catch fire or malfunction and challenges experienced hoverboarders with various skill-level-based courses, in the safest possible environment.
HoverPark is currently under-construction, but will soon offer 15,000 square feet of fun for the whole family. Founding Partner, Brad Garlin says, "We are incredibly excited to offer people a safe place to learn how to hover, as well as a challenging place for experienced hoverers to come out and compete for glory. This is the first and only facility of its kind in the country, and we look forward to expanding as quickly as possible so our customers in West Dundee, IL can compete on the same tracks with others from across the country, or even the world. We identified a need, and then created a place where people can actually use and enjoy these amazingly fun devices."
At HoverPark, safety is the highest priority. The state-of-the-art harness-based safety training area is unlike anything else currently available anywhere. People interested in testing out a hoverboard will have access to a safe, reliable and trusted hoverboard in the safest possible environment where they can fearlessly learn to hover without worrying about falling down. Garlin says, "We couldn't be happier with the progress we have made testing various safety systems. The greatest risk of falling comes in the first several minutes of learning how to hover. Our revolutionary safety system eliminates that concern."
Another critical safety measure was taking the time to thoroughly test various leading hoverboards to determine the safest, most reliable and most durable solution. This testing proved incredibly important as inferior boards can catch fire and tend to malfunction. Our tests uncovered multiple examples of hoverboard malfunction, specifically associated with the cheaper boards we tested. This is part of the reason that HoverPark does not allow people to bring their own hoverboards. Customers must use our top-of-the-line hoverboards that are conveniently waiting for them at designated tracks and training areas. HoverPark also requires all customers to view a safety training video and to always wear helmets. Wrist, elbow and knee pads are also available for those who might be interested.
HoverPark developed advanced proprietary technology in order to identify and time customers, in order to track their performance. This software is integrated throughout every aspect of HovePark, enabling various customer features. "We developed our system from scratch. Our timing software is sleek, powerful and accurate. Our custom-built micro-computers interact with the cloud to record and store all user data, providing customers the ability to readily view their time histories, achievements and more online," shares HoverPark Founding Partner, Mike Tatge. "Sofware development is a critical component that ties everything together and our custom-built technology is powerful, dynamic and expandable."
The first HoverPark is part of the brand new LifeZone360 facility located at 999 W. Main Street in West Dundee, directly across the street from Spring Hill Mall. This facility is still under construction, but already has several areas up and running, including two indoor soccer fields. Once complete, in addition to HoverPark, Lifezone360 will include two 16,000 sq. ft. rubberized turf fields, one 6,500 sq. ft. rubberized turf field, two 5,600 sq. ft. sport courts, one 200 ft x 35 ft. multi-sport turfed practice & warm-up area, a 3,000 sq. ft. viewing deck overlooking fields, multiple private party rooms on two levels, private meeting/conference rooms, gymnastics area, arcade, lounge & flexible workspace area with Wi-Fi, restaurant, sports bar and entertainment venue. "We are extremely excited about bringing LifeZone 360 to the community. "We believe that HoverPark fits in well with our brand and desired goal of bringing families together," says Jeff Dunham, LifeZone 360 President. "We will finally have a place to train, compete, and have fun with hoverboards." HoverPark and its website are a work-in-progress, but check back soon to reserve a session. If interested in getting updates with HoverPark progress, please visit http://www.HoverPark.com and sign-up to be notified when they can officially register for a training and/or track session. The grand-opening is planned for late March; details to follow.