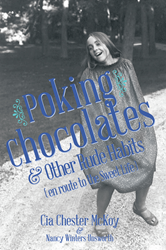 BRADENTON, Fla. (PRWEB) January 25, 2016
An ideological nomad searching for she's-not-sure-what can land in strange territory. Like a child digging through candies in a box, author Cia McKoy ditches her Kennedy-esque lifestyle and pokes the underbelly of heady new ideas swirling about in the '60s and '70s. Poking Chocolates & Other Rude Habits (en route to the Sweet Life) brings that experimental era to life.
In this laugh out loud yet tender memoir, McKoy bumps into the intriguing, odd and famous on her search for wisdom and a superior brand of love.
Crammed with adventure, the author's wide-ranging quest exposes the underside of Princeton, the peace movement, TM, drugs, gay dance clubs and other intriguing destinations. Ultimately a scandalous encounter on a country road in England wins her mind and snags her heart.
For more information, visit http://pokingchocolates.com, where profits from sales go to IJM to combat human trafficking and where books and audio recordings are discounted.
"Poking Chocolates & Other Rude Habits (en route to the Sweet Life)"
By: Cia Chester McKoy and Nancy Winters Unsworth
ISBN: 978-1-4808-1200-0
Softcover retail price: $17.99
E-book retail price: $5.99
Audio version available online on Amazon, http://www.ACX.com, pokingchocolates.com
About the authors
Cia McKoy, the only woman known to have dropped out of both Princeton and Harvard, has written dramas, articles and film scripts for festivals, nonprofit organizations and retreats. Co-author Nancy Unsworth has written textbooks on writing for Houghton Mifflin and contributed to several other publications. The two women enjoy giving talks together about their book, their unlikely 41-year friendship and the strenuous collaboration process. Both writers spend most of the year in Bradenton, FL with their husbands.
###
For review copies or interview requests, contact: Jaymie Shook | jshook(at)bohlsengroup(dot)com | 317-602-7137
(When requesting a review copy, please include a street address.)