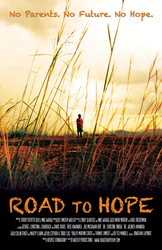 Mishawaka, IN (PRWEB) January 29, 2016
"Road to Hope," a feature-length documentary produced by the Hospice Foundation, has been chosen as an official selection by five film festivals and has been nominated for awards in three categories at the London International Filmmaker Festival of World Cinema: Best Feature Documentary, Best Director of a Feature Documentary and the festival's Scientific and Educational Award. The film will make its European debut when it screens in London on February 19th.
It is one of five "Official Selections" in the feature documentary category in the January 2016 installment of the Miami Indie Fest and will be one of four movies competing in the documentary film category when it screens at the Hollywood Florida Film Festival being held February 10-14. The fourth festival nod is from the the 9th Annual Geneva Film Festival. This festival will be held March 10-12 in Geneva, Illinois. In addition, "Road to Hope" will be screened at the 22nd Annual San Luis Obispo International Film Festival held March 16-20.
Torrey DeVitto, who stars in NBC's "Chicago Med" was part of the documentary crew and also serves as the film's narrator. Best known for his work on ABC's "Modern Family," three-time Emmy Award winning sound mixer Stephen Tibbo supervised "Road to Hope's" post-production sound and completed the final sound mix.
"Road to Hope" was filmed in Uganda, Kenya, South Sudan and California and documents the lives of children who had cared for their dying parents as well as the adults who shepherd them through the next phase of their lives. The film was inspired by the Hospice Foundation's partnership with the Palliative Care Association of Uganda (PCAU). PCAU's primary mission is to make palliative and hospice care accessible to the country's 41 million inhabitants.