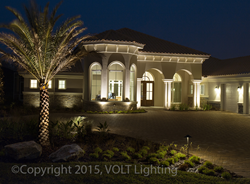 Google Trusted Store . . . thousands of 5-star reviews
Tampa, Florida (PRWEB) January 26, 2016
VOLT® Lighting, leading factory-direct manufacturer of landscape lights, announced a significant achievement in its product development program – over 100 new lighting products released in 2015. The milestone is significant because it demonstrates the capability of this company to keep pace with the growing demand for professional-quality lights at affordable prices.
Alan Brynjolfsson, VOLT®Lighting CEO/President, explains how his company was able to reach this level of achievement, "Rolling out each new product requires hard work and discipline from our highly competent and devoted team. It's not just product development; it includes manufacturing, logistics, marketing, ecommerce, customer service, and shipping. Each process requires skill, intelligence, and a streamlined system. Our approach and our team are the best in the industry."
VOLT® Lighting was founded by Brynjolfsson in 2008 as the first manufacturer to provide professional-quality landscape lighting directly to the public and lighting professionals. Bypassing traditional distribution channels, he was able to offer the products (via e-commerce) at drastically reduced prices. The approach was a success and the company rapidly grew to become the factory-direct leader in the industry.
Among the 100 products released this year, all of them were designed for use with light emitting diodes (LEDs) – the newest development in efficient lighting technology. Designing light fixtures for LEDs is a new field and requires extensive engineering and testing. VOLT's development team has those skills and was able to work at a fast pace to create the new fixture designs. The company has so much confidence in its new products that most carry a lifetime warranty – unlike most manufacturers that limit their warranties to a few years.
Steve Parrott, Communication Director, discusses the online lighting market, "Consumers looking for lighting products usually enter lighting-related keywords in a search engine and find a confusing array of online lighting merchants. Most of these companies do not manufacture the lights, they are simply re-selling them. If a consumer sees inexpensive lights on these sites, they are probably very low quality. If, however, a consumer clicks on a VOLT® Lighting link, the products seen will also have very low prices but the quality will be excellent. There will also be expert support, same day shipping, and extended warranties. If consumers have any doubt as to the product quality, all they need to do is click on product reviews. Further proof is provided by clicking on the Google Trusted Store link at the bottom of each page – there are thousands of 5-star reviews."
VOLT Lighting continues to produce new products and is well on its way to surpass the 100 products they produced this last year. For more information, visit http://www.voltlighting.com.
About VOLT® Lighting
VOLT® Lighting's vision is "To deliver outstanding outdoor lighting products with such a gratifying experience that our customers become our best advocates." Both homeowners and professionals are invited to visit the company's website at http://www.voltlighting.com.