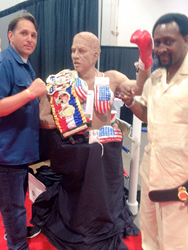 This has been a dream of mine for so long, and I can't believe that it has now become my reality
(PRWEB) January 24, 2016
Big Statues worked hard through the year 2015, creating a memorial that would give Tommy Morrison the recognition that he deserved. The recipe for that? A bronze bust of the legend himself. Matt Glenn at Big Statues put hours of effort into this project, because it was something that he was so passionate about. "I feel honored that I would have the privilege to work on a memorial statue for someone so great in the history of boxing. This has been a dream of mine for so long, and I can't believe that it has now become my reality." Tommy Morrison, world known boxer deserves recognition for the hours hard work and years of dedication he put into becoming one of the world's greatest boxing legends to ever hit the arena. He was a champion fighter, because he was a champion himself.
On January 2nd, 2016, there was an event in honor of Tommy Morrison. The event was extremely successful, and went exactly how they were hoping, if not, better. This event welcomed people from all over the world! Families, Friends, and Individuals, traveled from far distances to attend the event to honor this wonderful man.
The greatest part of this wonderful event was the exciting unveil of the bronze bust statue of Tommy Morrison, wearing the well deserved champion belt. A lot of work and effort was put into creating an exciting event for the whole family. This event was put on to inspire young kids and people everywhere and to show that hard work really does pay off.
Big Statues feels so honored that they could be a part of this great event, and even more honored that they had the wonderful privilege of working with those close to Tommy Morrison to create something that will awaken lasting memories. This event really was "One Bit Hit."